How to Make Burlap Placemats | 24 Creative DIYs & Tutorials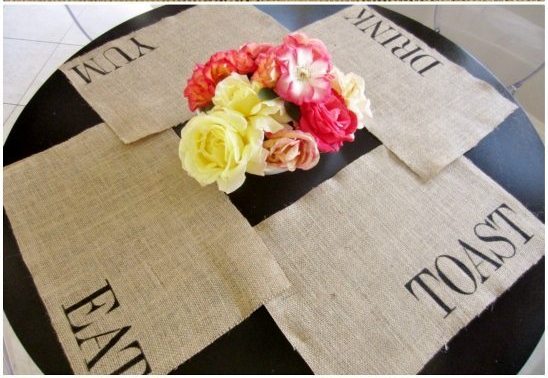 Burlap is one of our favorite craft fabric because of its versatile uses. We have tried making burlap bows, burlap table runners, and burlap flowers. Let's try and make some handmade burlap placemats to adorn your tables with this rustic fabric and give your home a country touch. Burlap is an inexpensive and classy fabric for crafts and projects. So time to do some amazing DIYs with burlap.
Collection of DIY Burlap Placemats with Step-by-Step Instructions
This tutorial is a creative one with some simple steps. All you need to do is work on the edges of the burlap placemat with slight fringes and then stenciling your number on it. Looks country like and amazing!

 

A great combination of burlap and velvet ribbons to finish the edges! This design is easy and plain with minimalistic intricacy. The traditional decor with burlap mats is idle for this festive season.

Give your dining room an earthy look and make this amazing woven burlap placemat. Loved this burlap pattern for my table!

 

A quick and easy burlap project with step-by-step instructions. A complete set of burlap placemats will be an amazing idea when making them takes no time! It's a no-sew craft, best when you are short of time!

 

A simple no-sew burlap project for your outdoor table decor.

 

This spring make some homemade placemats out of burlap and make your tabletop look beautiful. Adding some colors and polka dots to the burlap placemats gives it a unique vibrant touch.

 

This fall decorate your home with these pretty handmade burlap placemats. Cutting the burlap into leaves of different size and sewing them together. Be ready to gather lots of compliments for this creative burlap craft idea!

 

These holidays try this affordable and amazing burlap project to make a set of creative placemats. You personalize and decorate it to give it a personal touch.

 

You can use colored burlap for this simple tutorial. The edges have small fringes adding on to the country chic look. It's an easy no-sew design!

 

Adding a colorful ribbon completes the burlap placemat look and makes it bright with a primitive look.

 

Using black burlap fabric or any color of your choice and painting it will make it beautiful. Time to get creative with burlap and colors.

 

Get inspired with this stunning design and make a set of perfect burlap placemats. Stenciling it with some cool words and add charm to the theme.

 

The natural brown burlap fabric is great to make table runners and placemats and give your decor a look close to nature. A quick no-sew burlap craft tutorial.

 

This is an elegant burlap placemat design with step-by-step instructions to make it perfect for this festive season. Burlap mats with sayings and quotes is a wonderful centerpiece idea for your tabletops.

 

This fall no need to buy expensive placemats for your table. Make your own handmade placemats with burlap and impress friends and family. Give your table a classic vintage look.

 

A wonderful contrast of crocheting borders on a burlap placemat. I loved the pattern and the finished look is amazing.

 

Burlap Coastal Placemats

An amazing idea to color your burlap mats with coastal designs or starfish to match your theme of the party.

 

Once your burlap table mat is complete you can add ribbons, bows and other embellishments to decorate it.

Simple ways to make burlap place mats to add a shabby touch to your dining table.

 

Adding a cotton or lacy ruffle to burlap placemats will add to the elegance to your dining room.

 
Leave a comment