21 Easy DIY: How to Make a Newspaper Hat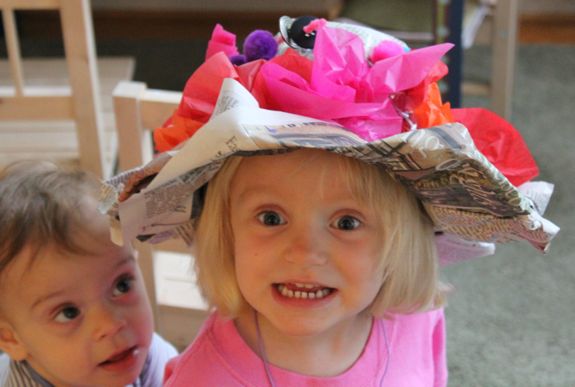 We all have a great fascination for hats! Hats of different shapes, colors, and material to go with our outfits. It's quite a stylish element which adds on to your personality. How would it be if you could make your own hat at your home? Great Idea! Let's explore how some simple household supplies like a newspaper can be turned into a wonderful hat for kids and adults! If you are wondering how to make a newspaper hat fret not! Here are some amazing ideas and tutorials to make them easily with step-by-step instructions!
>> DIY Newspaper Bags <<
Compilation of Easy DIY Tutorials on How to Make a Newspaper Hat
Making a newspaper hat is a great craft for kids! They have a lot of fun in doing this simple craft. Try making on this holiday season! Making Newspaper Hats for Boys is a great delight for your kid!

 

Recycling old newspapers and making derby hats for your kids is an amazing idea! Kids love to be creative with these things and make new crafts! Adding colorful papers to decorate the basic newspaper hat adds on to the charm!

 

A cool handmade newspaper hat decorated and painted to give it the desired look for your little girl! DIY this simple tutorial this festive season!

 

 

 

Time to make some hats for adults! The perfect cowboy hat look!

 

For some reason, kids love these sailor hats! Making these paper sailor hats with a splash of watercolors makes it bright and vibrant! A creative way to craft with your kids!

 

Newspaper Hat Instructions

Folding old newspapers to make some cool and creative hats is a fun-filled experience for kids and adults! Decorate it in your style and flaunt quirky newspaper hats that you can wear!

 

Perfect newspaper craft for preschoolers! Folding newspapers in simple ways to make a hat of your choice!

 

It's a birthday party at your place with a theme, then time to make some cool hats for kids to enjoy with!

 

This tutorial is a great one with step-by-step instructions with photos to make it easy for you to understand all newspaper folds and tips!

 

Video tutorials are easier to follow all instructions to guide you perfectly!

 

Making these cool newspaper sailor hats gets a smile on your kid's face! All instructions in the DIY tutorial to guide you perfectly.

 

Step-by-step instructions on how to origami a hat from a newspaper!

 

 

A great craft project to start with your kids!

 

If you have some cool graffiti printed newspaper, then it's ideal to be used for these hats for kids! It gives it a colorful and cute look which looks amazing on kids!

 

DIY Newspaper Hat Designs

Follow this simple and easy steps to make a newspaper hat today!

 

I loved this pattern and tried this too! Making last minute party hats as a craft activity is super fun! Adorning the hats with beautiful flowers to make it look pretty and stylish!

 

Making big and beautiful newspaper hats for kids in parties!

 

This round newspaper hat is a firm hat made easily in this video tutorial!

 

This Earth day go green and make some recycled crafts with your kids! This newspaper hat is an amazing idea!

 

Simple Ways to Make A Newspaper Hat

Easy tips and techiques to make a newspaper hat quickly!
Leave a comment