How to make a Paper Mache Dragon: 7 DIY Tutorials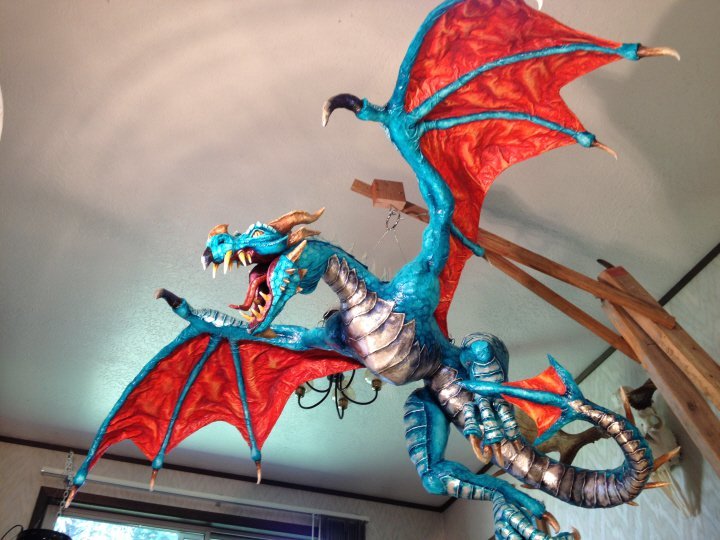 Paper Mache projects are fun to make and trying your hand on a paper mache dragon isn't a daunting task as it may seem. With tons of photos and step-by-step detailed instructions, it will be easy and fun!
Compilation of 7 DIY Paper Mache Dragon with Step-by-Step Instructions
Making a paper mache dragon sculpture is not as difficult as it seems. If you are wondering how to make a Paper Mache Dragon, then we get you this simple tutorial with step-by-step instructions. All you need to put your ideas in creation is dragon some newspapers, paste, masking tape, and paint. And in some creative time, your dragon is ready with paper mache.

 

It's Chinese New Year and you are all set to Paper Mache a Dragon Head to adorn your room. Not a very difficult one to do it yourself. Make this dragon head with some basic paper mache material supplies and make this wonderful dragon head.

 

If you want to craft and create a big dragon then this video tutorial is the right one for you. The finished product looks amazing. I'm sure you won't resist making this. It's explained in detail and won't take much time to make this! Making the teeth gives it a natural look! This tutorial is credited to Gourmet Paper Mache.

 

If you want to create a masterpiece or we can say the ultimate paper mache dragon then you can go for this tutorial. It's a time taking paper mache project which will ultimately turn in to a big real looking dragon. I loved this awesome tutorial!

 

If you want to make a simple and easy paper mache dragon with your kids then go ahead with this tutorial. This dragon is made using bubble wrap. A fun crafty idea for the little fingers to make and paint.

 

If paper mache is your passion, then take it to a new level with this out of the world, ultimate tutorial. It explains each detail step-by-step and helps you in making a wonderful paper mache sea dragon.

 

Actually, in the tutorial, they have finished sanding the eggs and sculpting a baby dragon to go in the nest. Full PDF instructions for the design!
Leave a comment