Spice Rack | 32+ Creative DIY, Ideas & Tutorials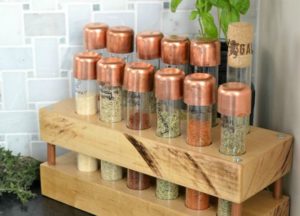 Spice racks are a great addition to your pantry or kitchen and help you organize your spice jars. However its difficult to find the perfect spice rack matching your container sizes and your requirements. Why buy one if you can get creative and make your own spice rack using wood, wire, magnets and other supplies. Let's browse the different ways to make stunning spice rack designs yourself which is cheap, affordable and easy to make.
Compilation of How to Make a Spice Rack Tutorials with Step-by-Step Instructions
Go creative with a coca cola crate and give a rustic touch to your kitchen decor. A great handmade furniture to stack your spices! You can hang or mount them on your kitchen wall and reach the spices in no time! A vintage and classic wooden spice rack at no cost!

Spice racks can do great wonders to minimize the mess in your kitchen and keep your spices organized in your cabinets. This magnetic spice rack is a cool addition to your furniture and saves your time. Follow the step-by-step instructions and build your own custom rack for spices! Make sure the magnets are strong enough to hold the containers.

 

An organized kitchen makes cooking a lot more fun. This wall mounted spice rack has a chalkboard attached to it to make it more creative. Label your spices to make it easy for you to locate your spices when you need them.

 

This spice rack is a creative one, using a frame and some shelves to organize all spices.

You can use the unused gaps in your kitchen and fill it with your sliding homemade spice rack. A great idea to keep your spices and herbs in one place. You can make the shelves and drawers as per the size of your jars.

This is quite a cool spice rack idea made using identical tin containers for spices and heavy duty magnets and velcro. An easy to make DIY craft project.

 

Wall mounted spice racks are one of the best handmade spice racks. You can mount the spice rack shelves into different tiers as per your requirements. The wooden shelves are durable to hold the number of spice containers and are idle for your large stack of spice jars.

A unique rack organizer for your jars of spices in your pantry using foam and marbles. A quick and easy do it yourself project. This video tutorial shows in details with step-by-step instructions to make this budget-friendly spinning spice rack.

Build your own revolving spice rack and sort your spice jars in one place and easy to reach with the revolving feature.

 

If you have your spices all over the kitchen then organize them in a handmade spice rack. Easy to make and assemble with some wooden pallets and simple supplies.