17+ Stunning DIY Valentine Candy Bouquet Ideas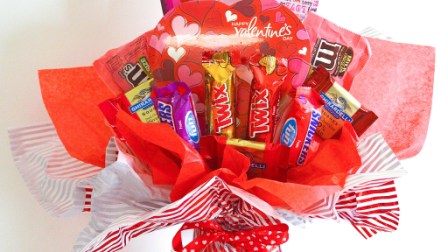 Looking for unique and romantic Valentines gift ideas? Make an amazing Valentine Candy Bouquet, a  perfect token of love for your significant other.  Indulge your creativity to let him/her know how much he means to you. They are easy to create and very inexpensive, making this a good gift on Valentine's Day to give their family and friends! Browse interesting ways of making an awesome Valentine Candy Bouquet with creative and unique ideas!
Compilation of  How to Make DIY Valentine Candy Bouquets with Step-by-Step Instructions
Say "I love you" in a unique and meaningful way by crafting your own bouquet of candies and chocolates. You can do this easy project quickly in no time!

Show your love to your loved one, with a handmade edible bouquet made from candies! You can explore and add interesting add-ons to be more creative. Insert pieces of candies and chocolate bar in the back of the centerpiece. The candy bouquet should look cute from all sides!

Why buy a gift when you can make one for your loved one! Handmade gifts are always special! Making a bouquet out of chocolates in a coffee mug, mason jar or a glass vase is a great affordable gifting idea for Valentines! You can add bows, accessories, ribbons, and embellishments to decorate it!

If your boyfriend or spouse has a sweet tooth, time to load your bouquet with candies and bars! A splash of his favorite red and colored candies for the day! It's a fun craft and easy to make too! Follow the tutorial for step-by-step instructions!

An interesting last minute craft idea, if you skipped taking a gift for your Valentine. All you need is some favorite chocolates, candies and arrange them to make a beautiful and delicious bouquet!

Learn how to make a stunning Valentine present that is affordable and quick to make!

Decorate a bouquet basket with her favorite candies and chocolates for this Valentine's!
Leave a comment