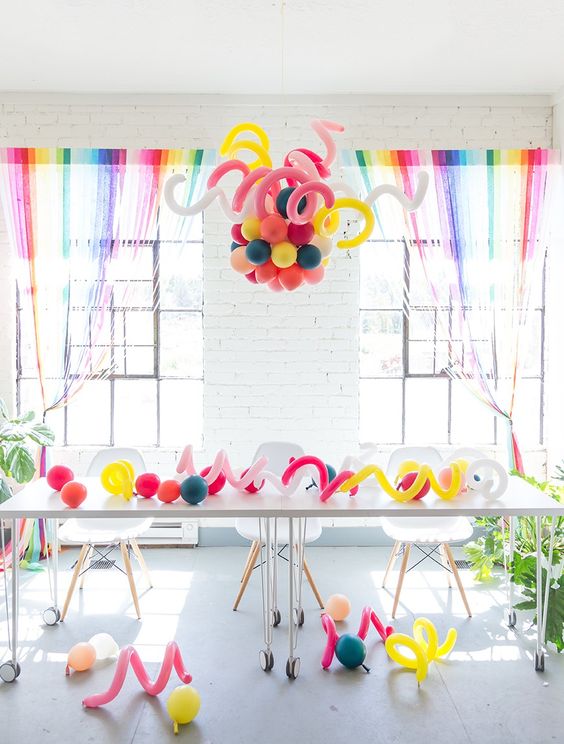 A  cool and unique balloon decoration surely adds color and life to parties, baby showers, and wedding events. It's a favorite glam factor for kids and even adults. Let's explore unique ways to make balloon chandeliers which will complement your party decor.
A cool confetti balloon garland hanging above your dinner table will be perfect to dazzle your room. The combination of white and confetti balloons looks classic and is perfect for any occasion, from birthday parties to dinner dates.

 

Adding a twist to your regular shaped balloons will give it a stunning look. Create different designs and add to your creativity. You can use hot air balloons for this tutorial and keep them hanging near the ceiling or you can place these balloons under the light to make them a glowing chandelier.

 

Time to spruce up your little girl's birthday decor with these cute and elegant pink and silver balloons chandelier. You can easily make them for themed birthday parties or baby shower event.

 

Minimalistic yet bright table decor for a tea party in your garden or backyard. The tutorial is a simple one and will be easy to brighten up your decor in no time.

 

With a few supplies of gold or rose gold colored balloons you can easily create this decorative balloon chandelier display your memorable photos hanging from the balloons and cherish all the beautiful memories on your wedding anniversary.

 

You can easily change the decor of your room or your outdoor yard by using balloons, some twine, and glue. These chic balloon lanterns look amazing when hanging from the ceiling for your wedding. You can use it later as showpiece too.

 

DIY Yarn Balloon Chandelier

This is one of the most simple decors you can do to in no time to pep up your room. All you need to do is tie some balloons to your fan's blade and make sure you use colorful ones. Just be sure your kid doesn't switch the fan on which will pop all of them.

 

If you have planned a big party space, then this amazing huge chandelier will be a stunner for the guests. This will definitely take time to create, but the finished product will gather all compliments.

 

If you want to go for budget-friendly party decorations which are inexpensive yet eye-catching, then try one of the designs featured above. From polka dots, printed, confetti balloons, you get an array of choices to try to creativity and make visually stunning centerpieces to decorate your venue.