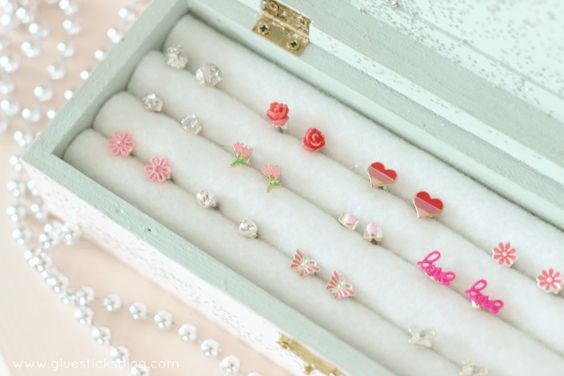 Store your collection of earrings and studs in handmade earring holders and find your jewelry in place when out for a party or a date. Making a customized earring holder which can display your earrings of all shapes and sizes in a stylish way and will help you store your earrings in an organized way. The DIYs are simple to make and will help to keep your dressing table clean. Explore new ways to store and display your earrings.
You can use an array of materials for the base of the holder, like fabric, burlap, screen, mesh, wires, velvet, foam, etc. The holder can be made of plastic, ceramic, clay, metal, wood, acrylic and more. Let's explore the different ways to make interesting earring holders and organizers with detailed instructions to guide you.
You can see how to make safety pin earrings here.
Compilation of Homemade DIY Earring Holder Ideas 
This picture frame is spray painted and customized with a fabric. You can use any printed fabric to make it vibrant. An ideal handmade gift for mother's day which is surely going to be very special to her. This linked tutorial is from Melissa's Vintagemellie.blogspot.in

 

You can get plastic frames of different shapes, be it a rectangle, square or others and use different colors to make it trendy. A very simple DIY to display your earrings and studs for kids and adults. This great tutorial is from Jodie and Jen's Eighteen25.com

 

An innovative solution to keep your jewelry and earrings in one place. Making one for yourself is quite simple 5 minute craft, using burlap and a picture frame. The linked tutorial is from Allison Regina's Ideasfrommetoyou.wordpress.com

 

If you have a fetish for big earrings and danglers, then this is perfect for you. An interesting Do-it-yourself craft idea which can be made with lace and hoop. The linked post is from Ashley's Mycraftilyeverafter.com

 

Get your aluminum sheet from the local store and follow the easy steps to make this hanging earring holder & keep your accessories within reach.

 

Keep your earrings untangled, organized and easy to get to and display your handmade creation to make a pretty decoration in your room. All you need is a chipboard which is quite cheap to get and some lace. You can add embellishments like buttons, flowers etc to make it creative. This lovely post is from Adri's Dreambookdesign.com

 

A great jewelry holder especially for danglers and long earrings. Follow the Youtube tutorial to get step-by-step directions to make this.

 

Recycle your chocolate box to make this cool jewelry box for your studs. A great DIY for young girls who keep misplacing the ear studs. A neat storage solution which is accessible easily and is portable too.

 

If you want to put some extra efforts to make a classic looking holder, choose to make this DIY printer drawer jewelry holder for earring display. You can keep your watches and necklaces too.

 

You can choose different size of the picture frame. A bigger photo frame will be easy to hang and organize. The linked tutorial and image is from Jen's Thechroniclesofhome.com. 

 

A cute earring stand made from balsa wood board and acrylic sheet for display in your dressing room.

 

Pierce the lid of a shoe box and have a useful stud earrings storage idea. Now no more missing studs from your drawers. The linked tutorial is from Gemma's Flutterandsparkle.com

 

A great way to hang your dangly earrings and keep your studs compact. Use simple ceramic stuff to make this like a deviled egg plate, a candle holder, cup etc. A multi-purpose project for other costume jewelry as well. This creative tutorial is from Faith's post on Curbly.com

 

Studs being small in size tend to be lost easily. This earring box has a piece of sponge cut to the size of a small container helps you keep your worries at bay.

 

A cute and unique diy jewelry organizer wall hanging is simply made from a strip of leather and a dowel for studs and small earpieces. Thea leather used in making makes it sure that the studs are firmly pierced in it.

 

Do-it-yourself earring holder and display organizer made from wine corks and a wooden strip to hang on your closet doors. The linked post and image is from Tracy's Thethingswellmake.com.  Please visit the website for the full tutorial.

 

The tutorial gives you unique ideas to make cool earring card holders by recycling business cards, playing cards, maps, gift bag tags, book pages, etc. Just punch holes in the paper and you are set to pierce your studs and earrings.

 

Transform an old photo frame that matches into an earring holder in just a few simple steps by adding a little wire netting or mesh. You can choose the frame that matches the aesthetic of your room to give it a modish touch.

 

Learn how to make this girly professional looking jewelry case box. You can use pastel printed fabric to wrap the wooden box. Adding a small mirror to the cover completes the look.

Kids! You can recycle your old Barbie and turn it into your own mannequin jewelry stand or into an earring display stand to organize your small earrings.

 

You can make your own cool rack for hanging your earrings with this cool tray and stylish hooks to give it an antique look. Paint it with the color of your choice and wall mount it to hold your jewelry, necklaces, and bangles too. This amazing wall mounted jewelry tray tutorial is from Tonya's Tonyastaab.com

 

Learn how to make a clay earring stand with legs. Ideal for piercing and clipping small studs and earrings.

If you are a frequent traveler, you will love to make this easy craft from recycling your old boxes and use them to keep your favorite accessorize organized when on the go.

 

There are some wonderful ideas to make earring holders for kids designed in the butterfly,  hello kitty, peacock,  and more interesting ways. Check the linked tutorials below for kids.                                                      Use your pegboard and beads to make this cactus to hold your earrings. Kids will love to make this craft in pink, white, green or black color. You can use your creativity to make cute designs like bird, panda, elephant where kids will love to pin their studs.

 

Butterfly Earring Holder Frame                                  

Use butterfly frame and cover it up with wire, burlap, mesh, to make a cute earring holder for little girls.

 

Alternatively, you can use frames of other themes like frozen, dream catcher, peace sign or the musical notes for kids be excited.

 

Get inspired to make some other designs like a giraffe, gymnast, horse, Unicorn or mustache are some other shapes you could try. You can try making the mermaid earring holder with clay which is very popular these days.

 

This beautiful monogrammed handmade earring holder is made by Amy Bell in her tutorial on Positivelysplendid.Com

 

Now you don't have to frantically search your jewelry box trying to find the matching earring scattered here and there. This DIY will make a great present for someone this Christmas holiday season and is easy to make fr children too.

 

A spinning earring storage made with old CDs makes stacking your big earring collection sorted without consuming a lot of space.

 

Showcase your earrings and danglers on this interesting spinning earring storage made with embroidery hoops fixed on a wooden base which great for organizing your earrings.

 

The gaps serve as a net to help insert your earrings and accessories.

 

A satin or net flower or bow attached at the bottom of the embellished frame allows this stunning earring display to lay by the wall. You can tie a ribbon at the back and use it as a hanging holder too.

 

You can cover the frame with burlap, mesh, tulle, thick veil or screen to make an amazing earring holder. You can add embellishments to the frame like ribbons, glitter or buttons for some sheen. The linked tutorial is from Carrie Waller's Dreamgreendiy.com

 

For all knitting lovers, grab some yarn and make this beautiful holder for your earrings!

 

Learn from the linked Youtube video tutorial how to add chicken wire to wooden frames to make amazing storage for your fashion accessories. You can use this as a necklace holder too.

 

This is three-dimensional (3 D) Eiffel Tower to go with all the Paris theme. All you need to do is add some wooden pegs to a wired Eiffel Tower frame if you have one!

 

Pack your studs and rings in the cushioned rolls made of foam that fill up this aesthetically painted wooden box. You can cover the rolls with velvet for a smooth and classic look.

 

Use a strong and sturdy metallic chain and tie it on two hooks to make a curve. Hand your heavy and big earrings on to it easily.

 

You can paint your old grater to any color like pink, yellow or red to give it a new vibrant look.

 

Explore clever ways to keep your necklaces and earrings sorted in one place. Enjoy seeing your earrings beautifully displayed while keeping your jewelry from getting tangled or lost.

 

Why buy expensive earring holders online, when you can make one on your own at affordable rates.

 

 

This serves as a compact stud earrings storage organizer.

Embellish the pink leopard print frame with self-adhesive pearls, glitters and gems to give it a girly look.

 

Printable Earring Holder Template