Tissue Paper Pom Poms | DIY Ideas & Tutorials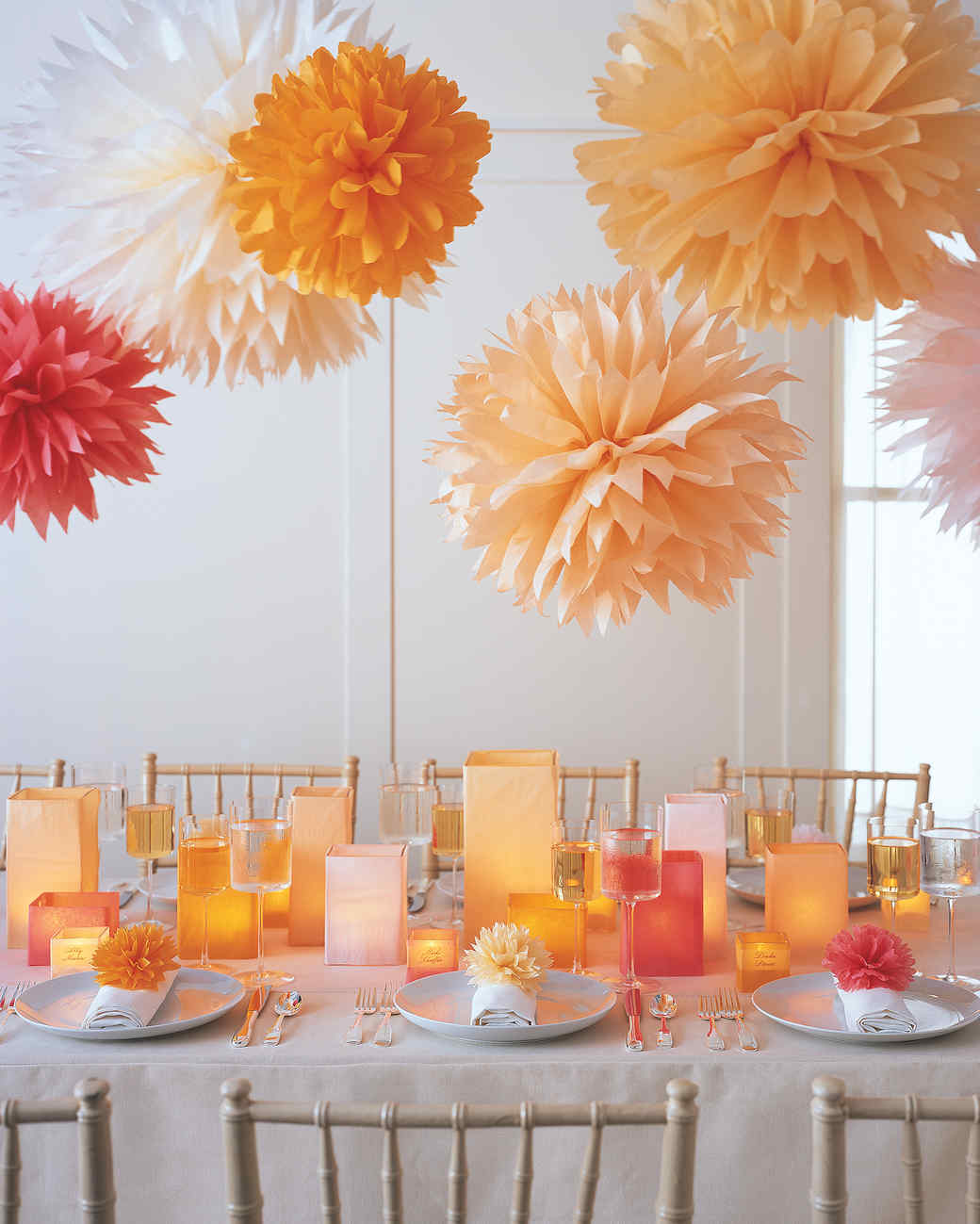 Tissue papers can be put to various crafty uses! It's inexpensive, affordable and can be used for designing flowers, pom poms and more decorative. The end product looks impressive and beautiful! You can make tissue paper pom poms of different sizes and colors as per discretion!
Compilation of Best DIY Tissue Paper Pom Poms Ideas
This design looks beautiful in this baby pink and white combination! You can decorate these tissue paper pom poms by hanging, sticking it on the wall or putting them in a vase!

Decorations for birthday parties can be an expensive affair. Using tissue paper to make beautiful pom poms looks quite impressive and gives your house a great impact! These pom poms are easy to make and can be made in some minutes. The best part is these pom poms are reusable! This amazing tutorial is by Martha Stewart.

Colors add a cheerful radiance to any party. If your party is a rainbow theme, then making rainbow tissue paper pom poms is a perfect DIY idea for you! Looks different and adds vibrancy to your decor.

This video tutorial shows you step-by-step how easily you can create amazing pom pom centerpieces with tissue paper.

Time to learn how to DIY Tissue paper pom poms in a couple of minutes! Make these eye catchy and cool pom poms today!

Such amazing pom poms hanging from the ceiling appears as if they are floating in the air! Giving it a stunning look!

Instead of making pom poms of different colors each, you can try combining 2-3 colors in one pom pom itself! A Multi Colored Tissue Paper Pom Pom looks creative and adds a trendy element to the decor!

If it's your child's birthday party and you want to do homemade decorations to give it a personal touch, then go ahead with this DIY idea!

It's your holiday for Christmas and you are looking forward to making some creative crafts yourself to decorate your house! Then bingo! Why not try your hand on some tissue paper crafts and pom poms?

Learn how to make Tissue Paper Pom Poms for your Baby Shower and amaze all your guests!

You can make tissue paper pom poms of different sizes and dimensions as per the theme and the decor!

Tissue paper craft is very famous with DIY lovers! Fun to do and easy to make! This is made with mini tissue paper pom poms, you can make the same with different sizes! Hanging these pom poms garlands in your house will look great!

This is a beautiful piece of craft idea for DIY Tissue Paper Pom Poms.

Want your child's nursery to look the most beautiful place in this world. Kids love colors. Decorate your nursery with some amazing tissue paper pom poms. Get inspired with these amazing ideas!

From cutting tissue papers according to the large size to how to assemble tissue paper pom poms, you get all instructions in this tutorial. Happy Crafting!

Using white and lavender for pom poms for your wedding decorations will give it an elegant look.

Wondering how to give your room a new look without spending much! Create some beautiful and pretty pom poms with tissue paper and add a creative element today!

Making pom poms with tissue paper isn't a daunting task as it may seem! Try making these yellow tissue paper pom poms for the spring!

Your guests will be arriving soon and you want a unique dining table decor? Try this lovely tutorial and get compliments from everyone who sees this creative designs.

The festive season is around the corner, and it's all about lights, colors, and vibrancy. Try this DIY today!

Try making these amazing pom poms made of lavender and orange tissue paper! I loved the combination!

Try making these ruffles pom poms from tissue papers!

Making Poms Poms with orange and black tissue papers will gel well with the Halloween theme!

32.
Leave a comment