How to Make Wine Bottle Planters | 17 DIYs & Tutorials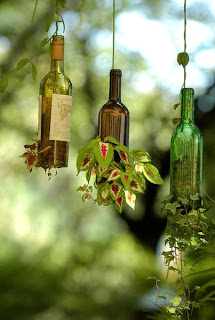 If you are a wine lover and you have empty wine bottles stacked in your house, then this DIY Wine Bottle project is a perfect idea! Wine Bottle Planters look stunning and unique indoors and outdoors with their sleek finish and classic finesse! You can cut these wine bottles and make various kinds of planters for your tabletop or garden!
Collection of Amazing Wine Bottle Planters DIY & Tutorials
Repurpose your old wine bottles and make some awesome hanging planters and display them in your patio! You can cut these wine bottles as shown in the tutorials and make an upside-down wine bottle planter. It's simple to follow the step-by-step instructions and make one quickly.

 

Turn your wine bottles into self-watering planters and combine creativity with greenery!

 

This delicate planter made from a wine bottle looks simply beautiful. Ideal for succulents and as a decorative tabletop.

 

Hanging Wine bottle planter with a rustic look. Add this to your greenhouse and DIY today!

 

These wine bottle planter ideas are great for indoor plants and succulents. If you are wondering how to cut wine bottles, fret not! The tutorial has a detailed guide! Make these beautiful planters and adorn your house in the festive season!

 

This tutorial has both written and video tutorials on how to make wine bottle planters! You can choose different kinds of indoor plants as per your preference to suit the planter.

Some clay, succulents, and cut wine bottles are all you need to go green with these planters! Amazing decorative pieces and ideal for gifting friends and family.

 

Hydroponic planters mean growing plants in water without soil. This idea compliments wine bottle planters perfectly which can be put on your windowsill with herbs or lettuce!

 

Get this countryside look and decorate your wine bottle planters with ribbons or embellishments of your choice and hang them around your house!

 

Wine Bottle Planter Ideas

Make your own indoor garden with these beautiful planters or use this as a centerpiece at your place! These are simple to make and affordable too.
Leave a comment