10 DIY Aquarium Fish Tank Coffee Table | Designs & Plans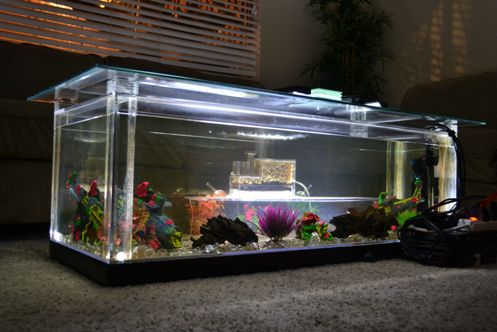 There are a lot of enthusiastic fish lovers who like to place aquariums in different corners of the house! These days, fish tanks are not just rectangular glass affairs of the past. Now, they come in the form of coffee tables, bar counters, and slim, wall-mounted ones in square, round, rectangular, hexagon, octagon, and oval shapes to add glamour to your interiors. You get amazing designs of Fish Tank Coffee Table Aquariums online, however making one on your own won't be a great pinch in your pocket.
You can explore and make interesting DIY Fish Tank Coffee Table Designs made from wood and glass and decorate them with a terrarium, lights, colorful stones, pebbles and more to add to its exclusivity! Keeping these designs in mind create a variety of modern and attractive fish tank or aquarium coffee tables and enhance the decor of your home!
Collection of Creative How to Make a Fish Tank Coffee Table Tutorials
Making a rectangular fish tank coffee table is a great idea to use your home space aptly. It's a stylish and multi-purpose addition to your furniture! You can choose to make a 40 gallon or 50-gallon fish tank coffee table!

If you are looking to buy a coffee table aquarium and can't find the right one, it's time to make one on your own. This is a little time taking and requires patience but the end product will definitely be worth it. This Youtube Video tutorial explains you step-by-step with instructions to make this process easy and understandable for you!

Make your own stunning aquarium fish tank coffee table with these instructions. Using an acrylic fish tank for the project with MDF as the base would make it lighter and easier for you to move it from one place to the other, also minimizing the risk of breakage. Adding Aquatic plants, stones, lights will add to the visual impact making it look spectacular.

Making a fish tank inside the coffee table is quite a unique visual experience too. Build this creative project with great instructions given in the tutorial with fish tank coffee table plan!

If you have a love for nature, fishes, and reptiles it's time to make a terrarium fish tank coffee table!

Recycle your old television stand and give it a cool makeover! This homemade fish tank coffee table will surely grab eyeballs of your friends and relatives! You can add fishes, toys, and filters and make it amazing to look at.

Make this wooden coffee table fish table with a glass top for your drawing room.

This is quite an affordable 30-gallon fish tank which can be made oak wood.

This is a tropical 55-gallon fish tank coffee

You can use this fish tank coffee table as your corner table or center table in your room.
Leave a comment