44 Free Crochet Bikini Patterns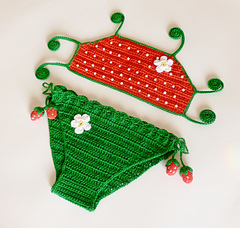 Colorful Crochet bikinis in all shades ranging from red, blue, green, neons, rainbow palette are a summertime tradition for women!
From sexy and slinky to fun and fabulous, if you love to crochet and rock in bikinis, then making a crochet version should definitely be on your list. Different styles ranging from halter neck, high neck, strappy, bandeau etc.
Rasta, color block, Jamaican and Brazilian designs – they all look fabulous! You can select the size from different crochet bikini patterns and make it for toddlers, newborn babies, girls, and women.
Buy Crochet Supplies Here
Compilation of Crochet Bikini Patterns & Tutorials for Women
The grey bralette/crochet bikini top is ideal to beat the heat on the beach in summers. It's a cool design and can be made in small or medium size with these simple instructions. You need to increase the rows if you want a bigger size.

White is the top pick in colors when out on a sunny day! Wearing white crocheted bikinis with contrasting colorful cover-up will give you a stunning look on the beach with crocheted sandals.

Make this cute pink bikini top known as the Lolita style wrap around bikini top. An amazing outfit for summers. This design would be a "super like" with women who don't mind showing off a little skin.

This design doesn't need a lot of yarn and looks beautiful on you. It is important to take the correct cup measurements for comfort.  This two-piece swimsuit has a nice repeat pattern that is simple to follow for any crocheter. You can use single colored yarn in case you don't have all the colors.

This cute pattern with floral edges is an apt one for hot summer days. The design is simple and does not take much yarn. This pretty bikini top uses white ribbons for to make the bottom edges and the straps. The measurements in the tutorial are in cm and the instructions are written in American English.

This design is made using cotton yarn, as its light weighted, breathable, and just a much nicer yarn to have against your skin while sunbathing or swimming. You can make this pattern it in whatever color you want.

This beautiful pattern of bikini bottom is lacy and gives it a vintage look. Though it looks sensuous the high waist pattern does not show off too much.

The crochet bikini with a high V Neck uses a half double stitch, double and single crochet and the V-stitch and is easy to make.

You can make your own killer crochet halter top to wear all summer long. You could use it as a swim top, pair it with some high waisted shorts, or even a cute skirt!

This bright striped bralette with strings knitted in the multicolored yarn will make you look stunning at the beach. At the beginning of the design each row of treble crochets, replace the first treble crochet with 3 chain stitches. The pattern in the tutorial is made in XS size measurements. You can increase the rows for a larger or plus size one.

Make a style statement with this fashionable crocheted bikini top in white this summers. All you need is  3.5 mm crochet hook and 100%coton yarn would be your supplies for this project.

This boho-style crochet bikini top looks pretty with these fringes. You can add tassels, shells or beads to accessorize it further.

It is made from hemp-soy yarns and natural bamboo yarn giving it a great finesse. The design features wooden beads on the straps to further beautify it. Ideal for your beach parties and summer fest.

If you know how to crochet, this project won't be a difficult task for you. It involves treble crochet stitches and involves intermediate crochet skill levels. A stunning turquoise with a blend of white enhances the visual appeal.

Crochet this super easy bikini top in a triangle shaped motif. You can use different colored yarn as per your preference.

This strawberry bikini two pieces swimsuit in red and green will look adorable on your baby girl on the beach.

A very simple tutorial with step-by-step instructions to make cute little bikini set to dress up your favorite dolls.

Make your little one wear this cute shell bikini with scalloped edges and get amazing compliments. You can team it up with short pants or skirt.
Leave a comment