5 Reasons Why A Lovely Dining Table Complements Every Kitchen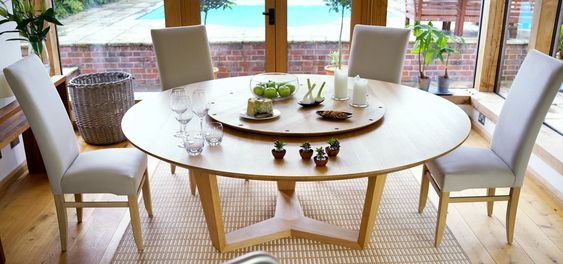 Every room in the house provides a unique experience for the residents. The dining room is important because it provides an ample environment for the family to come together to eat, chat, and celebrate.
This makes the dining table to be one of the core aspects of the home. Dining tables come in different sizes, colors, designs, shapes, and finishes to meet the diverse needs of homeowners. Below are five reasons why a lovely dining table complements every kitchen.
1. Multifunctional Purposes
A lovely dining table is highly practical, convenient, and multipurpose. It can be used solely for dining or as a multifunctional piece of furniture. A dining table can be used for an array of purposes such as holding private conservations, children can do their homework from there, the family plays board games from there and birthdays are celebrated there. In other occasions, a dining table is used as an office or storage.
2. Center of a Home
A lovely dining table is considered as the heart and center of the home that complements all furniture and accessories. After your bed, the dining table is the most important piece of furniture in your home. It is a place where all family members are present at the same time. The dining table is a quiet and warm place where you welcome guests. The interior design and décor of the dining room have a big impact on guests and homeowners alike.
3. Add style to a home's décor
A lovely dining table adds style and complements the home's décor. It fits into the home's décor and enhances its aesthetics. For instance, if your home has a modern style, the dining table must have a modern style. The table adds liveliness to the room and makes it appealing for guests and homeowners. The style of the dining table should match your home's décor and personal style.
4. Conveys different Meanings
Dining tables come in different sizes, shapes, and colors to symbolize different things. These features communicate volumes about the people living in a home. A small dining table can denote a small family and a love for intimacy. In the Chinese culture, the dining table is a sign of status and wealth. A big table shows that you can feed a large family so the bigger, the better.
5. Good fit
A lovely dining table fits into the dining area to complement every kit. If your dining table is too big, it will not fit into the dining area and hence will not go well with the other kits. Therefore, an ideal table has to fit in the stipulated space and give room for chairs and movement. Large dining tables are elegant and fit beautifully in spacious homes.
The dining table plays an important role at home and brings good energy and social connectivity. It is a symbolic piece of furniture that depicts status, strength, unity, and community with guests. A lovely dining table complements every kitchen because it is multipurpose, the center of a home, and adds style to a home's décor.
Leave a comment