8 DIY Twig Chandelier Ideas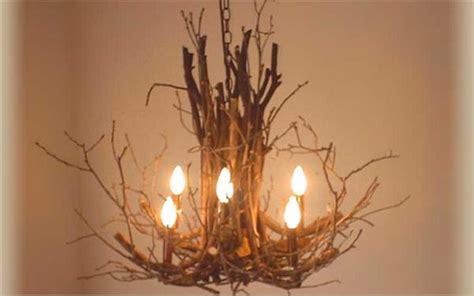 It's autumn and Christmas is coming soon. DIY enthusiasts love to create unique crafts for the holiday season and utilize almost everything available. We had earlier shown how to make candle holders using twigs. Now let's see how to transform a fallen tree branch and twigs into stylish chandeliers.
It's time to create handmade chandeliers with twigs and bring some nature into our interiors.
Interesting Ways on How to Make DIY Twig Chandeliers
Turning some dry branches into a beautiful hanging chandelier isn't that difficult. The linked tutorial shows you the step-by-step instructions to make this out of small-medium twigs lying around in your backyard.

An ideal chandelier to light up your house this Halloween and give it a natural and rustic look. In this tutorial white tree branches have been used. The use of twine and branches is eye-catching!

Create the most stunning lighting for this corner of your house with natural twigs, tree branches, and fairy lights. This tutorial sets-up this interesting Christmas rustic ceiling decoration which a treat to your eyes.

Tangle your twig lights together and tie the upper stems together using bind wire. You may choose to stagger the heights of the stems to create a longer, narrower chandelier. A very classic design which can be assembled easily to create some great lighting.

This simple yet creative chandelier hanging from the ceiling is quite a creative addition to your decor. An interesting winter craft to brighten your house with some handmade light display.
This fall you have a great reason to upcycle the fallen branches, twigs and collect them and turn them into beautiful wreaths or chandeliers to light your house. Share your ideas and creations with us in the comment section below.
Leave a comment