25 DIY Bottle Cap Coasters Making Ideas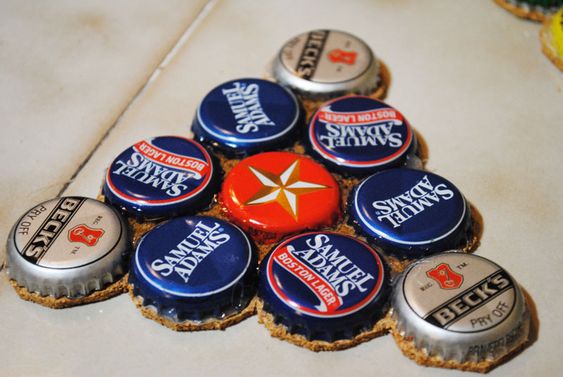 Bottle cap coasters are sturdy and are perfect for protecting your wooden furniture from heat and stains. They are inexpensive and a great recycling project to put your old discarded bottle caps in use. You can use cardboard sheets, cork board, resin, molds, concrete etc,  as your base and glue on the caps using a hot glue gun. Explore the different ways of making creative coasters from bottle caps.
You May Also Like ~ "Cool Bottle Cap Keychain Ideas"
How to Make Bottle Cap Coasters with Step-by-Step Instructions
Get inspired to use your old beer caps and make cool coasters for your tabletop! You can gift these to your dad on occasions around the year.

 

You can cut the cork board in different shapes and stick your bottle caps on them. You can customize the caps as per your preference. Paint it or put a print on it to make it quirky!

 

If you want a durable coaster, you can try making one with a clay base. Select your bottle caps and press them gently into your clay coaster. You can color the clay and give it funky look.

 

This tutorial shows you how to make decorative bottle cap coasters with pine board an epoxy resin (liquid glass) coating. These make great gifts and beautiful home decorations, especially for a bar or a lounge!

 

Use caps with interesting prints to make unique coaster designs. You can use all of the same type or different colors to add an element to the coaster.

 

You May Also Like ~ "Wine Cork Coaster  Making Ideas"

An easy to make a craft with old waste cold drink bottle caps. Kids can easily collect these plastic caps and make amazing shapes like a flower, square and more takes simple coasters.

 

Resin coasters are an amazing craft for the holidays with recycled beer bottle caps. Time to use your old bottle caps to make new coasters for the festive season. You can make colorful coasters with different caps.

 

All you need is silicon soap mold, Epoxy cast resin and your stack of old beer bottle caps to make your memories frozen in time. An inexpensive and easy to make craft idea!

 

 

Bottle Cap Coasters Mason Jar
Once done, try making interesting bottle cap crafts like bottle cap earrings, bottle cap keychain, necklaces and more. A fun craft for kids and adults!
Leave a comment