Bullet Bracelet: 25+DIYs and How Tos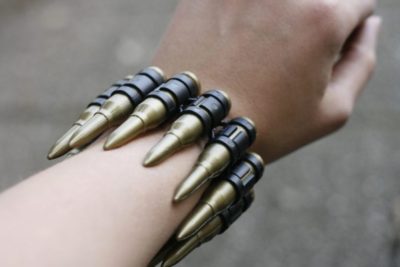 Bullet bracelet makes a  great style statement for men and women who love bullet style jewelry. Wearing this handmade bullet bracelet will surely make heads turn your way. You can explore the different ways you can make these bracelets with bullets shells, casings and more. Follow the tutorials with step-by-step instructions to create your own unique bracelet from bullets.
Compilation of How to Make DIY Bullet Bracelet for Men and Women
A minimalistic designed classic bullet bracelet, which goes well with all your outfits. This DIY video tutorial is easy to make and adds a lovely bracelet to your jewelry collection. All you need is a copper wire, a gutted climbing rope, and two bullet shells to secure the ends.

Learn how to make a simple paracord survival bracelet from bullet casings.

This paracord bullet bracelet project is easy for those who know how to make the king cobra bracelet. All you need to do is insert .22 cal. cartridge to every other knot as you pass on the King Cobra bracelet. The cartridges used are empty and thus harmless. 

Black widow is one of the most popular costumes for occasions. Dressed in her black catsuit and bullet bracelets, she is a stunning character. The black bullet bracelet is easy to make and can be created yourself in no time.

The combination of black paracord with golden bullet casing looks very sturdy and classic. This bracelet wraps around your wrist perfectly and is adjustable. A great wristband for all paracord lovers. Follow the step-by-step instructions to make your own bullets bracelet at the most affordable price.

Recycle and Upcycle your shotgun shells and make amazing bullet bracelet. You can use your creativity to create rings, necklaces, and more jewelry pieces.

Bullets heads and shells of .22, o.45 calibers look stylish on metal bracelets giving it a tough look.
Leave a comment