Top 40 Free Crochet Barefoot Sandal Patterns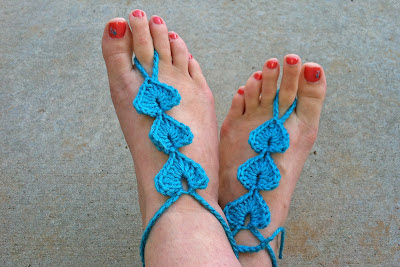 Sport a strappy crochet barefoot sandals look on the beach this summer! Crochet Barefoot sandal is an adorable accessory for the beach, a pool party or even sexy lingerie for your feet! They just dress up your feet a bit.
With the right pair of sandals, they make great jewelry too!  They let you go barefoot while adding a touch of class and style to your look. Time to learn some easy and amazing crochet patterns for your barefoot sandals with basic crochet supplies.
Collection of Free Barefoot Sandals Crochet Patterns with Tutorials
Make these pair of pretty crocheted barefoot sandals with easy to follow step-by-step instructions. Making a beautiful flower design in the middle enhances the look.

 

Learn to crochet this trendy bohemian barefoot sandals pattern in less than 15 minutes! Ideal for summers and beach parties I think they would be beautiful with beads crochet in the pattern. Wooden beads, pearls, shell, pony beads would look awesome!

You can show off your freshly tanned feet with the petal design crocheted in your sandals. Explore the endless combinations of colors to add to your handmade creation.

 

This is super simple and cute crochet pattern which you can weave with or without beads.

 

Get inspired to make your very own crochet barefoot beach sandals and weave this amazing heart-shaped pattern to flaunt on sand and water!

 

This crochet project is good for beginners as you only need to know some basic crochet skills (like the chain, single crochet). Adding fringes adds to the creativity and gives it an anklet look too.

 

This Youtube Video tutorial shows you how to make a pair of adorable beaded crochet barefoot sandals. Learn how to bead twice in a double treble crochet stitch, how to make picots, and work in the round to make this beautiful triangle in the middle.

 

An awesome crochet rose flower design for your little one's feet for this summer. Using two-colored contrasting yarns will be perfect for the bright sunny days.

 

These white barefoot sandals have a crocheted skull design. The idea is amazing with a dash of elegance! DIY today!

 

Make this pair of cheap barefoot sandals with crochet and add a weightless sandal to your footwear collection.

 

Make this simple and sweet Crochet baby Sandal and barefoot which is a must-have for your little one's closet.

 

These barefoot sandals work up quickly and are so cute! Follow along with the written pattern is found in this tutorial. Adding buttons or other embellishments add to the look.

 

Let your little girl walk in style with these crochet butterfly barefoot sandals! A fun summer accessory for babies, kids, and even adults! The beautiful combination of colors enhances the look of your outfit as well!

 

These infant gladiator sandals with flowers on the top look so cute and adorable on your little one's feet.

 

Make these adorable infant footless sandals for your little angel! A handmade creation for your special one!

 

Let your adorable baby be the star of the summer with a pair of cute star barefoot sandals! These pretty star-shaped barefoot sandals are stellar accessories for your little star's wardrobe and much cooler than wearing baby shoes or socks on a hot summer day.

 

Cool crochet soleless sandals are great to carry with lacy dresses!

 

Using black yarn for this design will make it look stunning.

 

Learn how to crochet a pretty pair of barefoot sandals by watching this video tutorial with simple crocheting techniques.

 

The blue net design of the sandals looks dazzling and it sure to grab many eyeballs in your party.

 

If you want to go barefoot for a walk on sand or a grass field, wearing a crochet bottomless sandals is the right choice!

 

This pattern creates a unique ivory lacy triangle that sits on top of your foot. The straps are tied around your ankles to secure the sandals. These sandals are very quick to crochet.

 

Using beads and tassels can convert a simple sandal into a great crochet foot jewelry patterns which will be great for women.

 

If you are planning a beach wedding, team your outfit with some incredible crocheted barefoot sandals! It's a great piece of knitted jewelry. Adding beads, tassels of embellishments will make it more ornamental and a great pair of bridal barefoot sandals.

 

If you are looking for a quick and affordable barefoot sandal time to crochet one for yourself in no time.

 

Barefoot sandals are also called 'Sand Sandals', 'Water Sandals' or 'Slave Sandals'. Adding clasps and clips at the end adds to the uniqueness of the pattern and makes it interesting.

 

Footless sandals crochet pattern for themed parties with this heart-shaped design is a great idea for girls to carry!

 

Not only is the crochet flower pattern totally beautiful, but this color combination totally rocks. Lace up these cool sandals and gather all compliments. You and download the free PDF pattern in this tutorial.

 

If you are wondering how to make these soleless sandals, then follow this easy video instruction.

 

Time to replace your flip flops with this amazing crochet lacy foot sandals.

 

For all crochet lovers, this is a great crochet project which combines style with elegance. Knit this gorgeous gladiator style barefoot sandals for the summers!

 

This is a wonderful pattern with spiders weaved in the middle. A great idea to go with your Halloween theme.

 

White gladiator barefoot sandel is a perfect choice for summers where you can take a soleless walk on the grass.

 

If you love coastal or beach outings get inspired to make these fashionable barefoot sandals. This pattern needs a basic skill level ideal for beginners.

 

Crochet Barefoot Sandals Diagram
Leave a comment