55+ Quick Crochet Shawl Patterns with Free Tutorials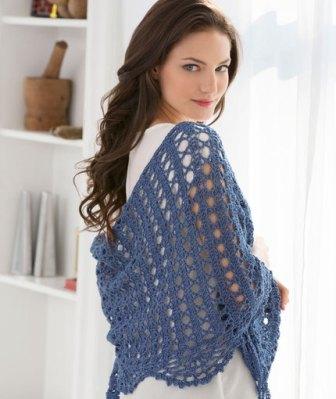 A crochet shawl is quite versatile and can be used for every season of the year. An openwork shawl can be the ideal as a swimsuit cover-up in summer while an oversized bulky shawl can keep you warm even in the winter chill. There are many different ways to crochet a shawl, including different shaping options such as triangle shawls, circular and rectangular shawls.
You can use different stitches and techniques to make interesting patterns. Our collection includes light and lacy wraps and shawls for women of all ages. The DIY tutorials are perfect for beginners and advanced crochet fans alike, these crochet shawl patterns and wraps are great for keeping warm all year round.
Collection of Free Crochet Shawl Patterns for Beginners, Intermediate, and Skilled Crocheters
Learn how to crochet this elegant white lacy shawl. The tutorial uses double crochet stitch and slip stitch techniques for the design. A very simple handmade pattern ideal for pleasant winters. You can team this with dressy outfits for weddings too.

A very beautiful round crochet design with the blue color transition. The stitch is a combination of single crochet and double crochet stitches on top of each other, which gives a beautiful texture. The tutorial has step-by-step instructions with a video tutorial in it too. The pretty pattern is from Wilmade.Com

You can use any pastel yarn instead of white to make this pattern. The fringes add a completeness to the triangle shaped shawl. A unique design which is sure to gather a lot of compliments!

A prayer shawl is knit with an idea to wrap the recipient in prayers and positive thoughts every time they wear their shawl! Prayer Shawls make wonderful comfort items for people fighting cancers, illnesses, those grieving the loss of a loved one or just anyone who might be in need of some extra comfort.

This multi-colored rippled crochet pattern looks bright and perfect for the winters. Download your free PDF pattern.

This crochet triangle shawl is easy and simple to make for beginners. You need to know basic skill levels of crocheting stitches to make this design yourself.

Use multicolored bulky yarn to make this vibrant and eye-catching shawl to wrap around yourself and keep you warm on cool days.

This crocodile stitch shawl looks great on a winter/spring evening. This pattern comes with easy to follow pictures and video tutorials for both right and left-handed.

Create this fashionable standout shawl that's warm enough to keep out the chill, without added bulk! Make this striking handmade crochet shawl to your wardrobe this autumn.

A pretty design for adding a little elegance to an outfit that's on the casual side. For many crocheters, the design will be ideal for wearing in fall and spring too.

This shawl will two colors of yarn looks elegant and is soft and warm on your shoulders for cool spring nights!

Download this free PDF version of easy crochet patterns to make shawls and wraps easily for this winters.

This free oversized crochet shawl pattern from Kristi Simpson is a great pattern to make for yourself, friends or family for any season. Adding a little fringe to the edges gives the shawl a creative element making it interesting.

This is a classic crochet poncho shawl that highlights the beauty of the pineapple crochet stitch.

Adding some fringes to the ends gives its a cool boho touch. Ideal to pair with denim, tops and dresses too.

This can be worn as a shawl or a scarf and is made using the traditional granny stitch, but not in a traditional way. Take a look at the detailed tutorial for which guides you well with instructions.

This lacy mandala shawl starts with a daisy flower in the center and works through rounds of clusters, shells, chain spaces and other stitches. Chose your favorite colors of yarn and start crocheting!

This is a super fast shawl which can be made as quickly in an average making time was 3 hours in testing! This pattern is available on Ravelry.Com for free. Make your own handmade crocheted shawl for yourself today.

The pattern is really flexible, feel free to create your unique shawl using this method by choosing the yarn and needle size you like most. I like the combination of different colored yarns with green!

A crochet shawl looks great on you at social gatherings. You can wear it over a dress or tee.

This prayer shawl has the beautiful crochet butterfly stitch worked into the intricate design. It a great choice for people undergoing change and transformation, the butterfly is symbolic of change.

Whether it's your Valentine's Day date or,  you just love dressing in red, this light and lacy crochet shawl pattern is sure to compliment anyone's style.

This striped crochet shawl is a great project to add to your collection and a perfect wrap for your shoulders for cool winter evenings.

You can download these free patterns and start working with your crochet hook and yarn.
Leave a comment