25 DIY Crochet Hammock Free Patterns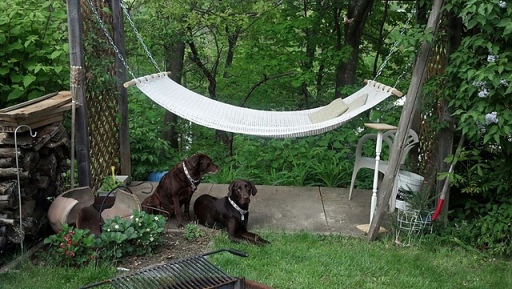 Relaxing in a hammock is a pleasure and if that is made by your own hands, the feel is heavenly. Though they look intricate, you can crochet them easily if you are adept with a few basic crochet stitches. Here are some  DIY Tutorials on how to make crochet hammock patterns with free tutorials and instructions.
Collection of Free Crochet Hammock Patterns with Instructions
Make yourself a crochet fruit hammock pattern and keep the bunch of bananas in it without getting bruised. Follow this free crochet pattern with step-by-step instructions to guide you well!

 

What do you do when you only have one last banana and you can't hang it on the hook? Time to hang this cute hammock swing above your kitchen counter to place your fruits or vegetables perfectly.

 

Crocheting a hammock sounds hard. But with these simple steps, even beginners can make one easily. You can also make a crochet hammock chair and keep it in your garden or front porch.

 

Get into a holiday mood in your garden or far away at a beach, away from the hustle and bustle of city life with this amazing handmade creation that suits sitting purposes. You can choose the width and diameter of the hammock as per your discretion and crochet it following simple instructions.

 

Crocheting a Toy Storage Hammock to hang it in the corner of your child's room is a fun craft to do. Swing them cutely in this colorful little crochet hammock.

 

Small crochet hammocks are a great way to exhibit and store your stuffed animals and toys in your kid's room. This is a very easy project, apt for beginners as well that can be finished in an hour or two. Because it's a loose, open pattern, it uses relatively little yarn and is a great tutorial to use your leftover yarn.

 

Try making this white pineapple hammock crochet for your backyard and stretch your legs for a relaxing nap.

 

This crochet baby hammock is exclusively used as a photo prop. Try making this pattern and rest your little one for a while for a nice nap.

 

This infant crochet hammock is adorable for your little angel.  It is best suitable for your child to sleep as the white color relaxes your baby. The crocheted hammock can also be useful in sorting your baby's toys and it decorates your room as well.

 

Crocheting a hammock may seem like a tedious task, but with these simple basic stitching techniques and loads of imagination, you can create an amazing one for yourself. It adds a creative element to your room when loaded with stuffed animals, toys etc.

 

This cute crochet hammock pattern is taken from cosycrochet.co.uk. An amazing addition hanging on your walls to store toys and accessories. You can use bright colorful yarn to knit this and add charm to this creation.
Leave a comment