30+ DIY Pallet Headboard Ideas & Plans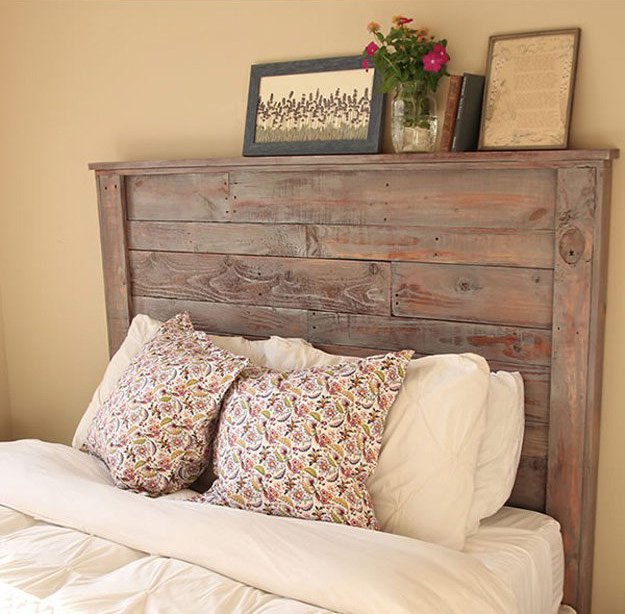 Old wooden pallets are an ideal choice to create versatile furniture for your home. From constructing a living room coffee table with built-in storage to pallet bookshelf, there are endless ways to use pallets to gain the storage that you desperately need at home without breaking the bank. With a handmade headboard, you always have the advantage of being sure about the measurements, dimensions, and specifications that would go well with the color and design of your room. Scroll down to some great Free DIY Pallet Headboard Ideas & Plans to make your own headboard quickly.
Compilation of How to Make a Pallet Headboard Tutorials with Instructions
Working with pallets is more of an art than a science. The height of the headboard made from wooden pallet has to be based on the size of your bedroom. Maintaining the worn look matches the rustic décor of the room while being a soothing treat for the eyes.

What is it about reclaimed pallet boards pieced together that our eyes love so much? The uneven edges and the setting made from the wooden pallets make it look amazing. If you have a love for vintage and country like decor try making this DIY.

Follow these step-by-step project which guides on how to build a king-sized pallet headboard from scratch. This headboard design can be made for any size bed.

If you have some idle pallet wooden planks, time to repurpose them and make this elegant headboard with step-by-step instructions. It's an easy and affordable addition to the decor of the room.

Once ready you can attach the headboard frame to your bed! You can paint the headboard once it's done to match your room color.

To add to the ease and comfort two small lamps with yellow bulbs lights are used. The small shelves attached to the headboard make it more useful to keep stuff.
Leave a comment