20 DIY Yarn Lanterns | Amazing Tutorials & Ideas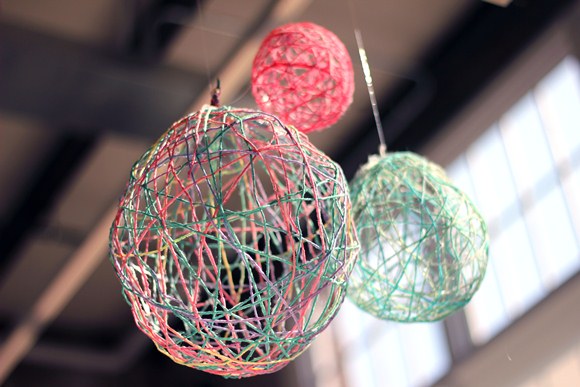 Lanterns are one of the cool things to make with yarn! Try making cool yarn lanterns for your bedroom. Or decorative globes lanterns for your garden? It's easy to make! (and cheap) All you need is some yarn, glue or modge-podge, a big old bouncy ball or a balloon, and some easy DIY tips. Time to get messy to create lovely lanterns with yarn!
Compilation of How to Make DIY Illuminated Yarn Lanterns Tutorials with Instructions
A fun and easy do-it-yourself project for both kids and adults. It needs some basic supplies to create amazing lantern designs wrapped with yarn! An affordable homemade craft to add charm to your home decor! A fun yarn project for beginners with step-by-step instructions!

 

This is a neat and classic hanging yarn craft ball lantern design for your room.

 

Wrapping colorful yarn around the balloon entirely in a horizontal and vertical way brings out the desired shape. Hanging led lights or small twinkling lights adds magnificence to this simple yarn project.

 

Make this beautiful pumpkin themed lantern centerpiece for your Halloween this holidays! Wrap yarn around balloons and give it a base if you don't want to hang them around!

 

Creating special handmade decoratives using yarn crafts is always a great idea! You can choose colorful yarn or white yarn to give it an elegant look to make decorative table centerpieces or hanging lanterns.

 

Follow the step-by-step instructions to make this gorgeous garland hanging lanterns to adorn your houses this festive season.

 

For all craft lovers who are always on a homemade craft stunt, making your own lanterns with yarn or colored thread of your choice is a great way to jazz up parties or wedding to give it a personal touch. In this tutorial, yarn lanterns are used as decorative tea lights!

 

Create lovely lanterns for wedding and parties using yarn, or a thick thread or string! Hanging outdoors on trees in your garden gives it a beautiful look! Make different sized lanterns and add lights to have an illuminating garden on moonlit winter night!

 

If you like paper mache projects, try making these pretty small sized lanterns to use as Christmas ornaments, decorative garland lanterns or party decors.
Leave a comment