33 Amazing Photo Quilt Patterns & Ideas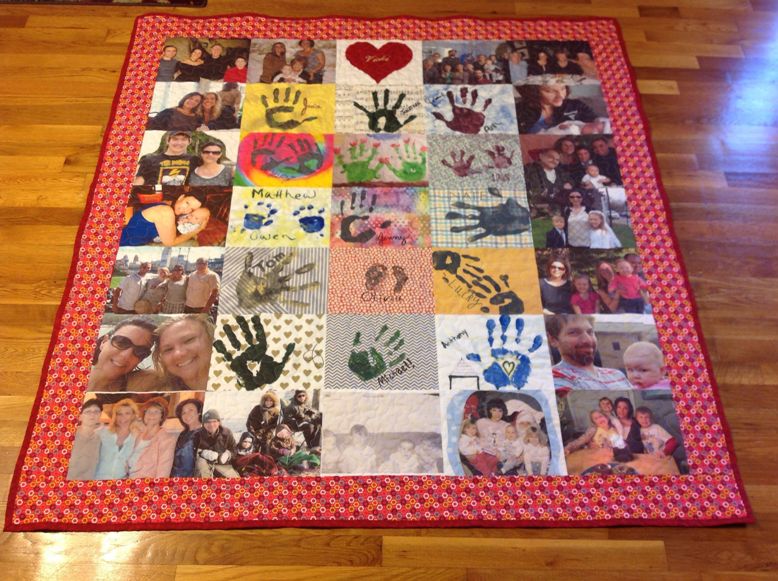 Quilts have an amazing ability to preserve the best memories, and one way is by using photos on quilts.  Nothing captures precious moments like family photos! People are becoming more interested in keeping family memories alive through a variety of fabric projects using photographs.
Photo Quilt is in rage these days! It's a wonderful keepsake to wrap up in, an ideal handmade gift to treasure memories or as a decorative wall-hanging. Browse through the collection of photo quilt designs and ideas and create a wonderful craft.
Compilation of Free Photo Quilt Designs & Patterns
Learn how to craft a printed and scanned picture quilt on your own with step-by-step instructions to make it easier for you. You need to pick High-resolution photos for the best end results.

 

The large photographs used makes the quilt look stunning. A collage of memories with family pics which you can treasure all your life! It is a great gift for anniversaries and weddings, making your dear ones feel special! Make sure the picture quality is HD for the best look.

 

Photo Quilt Ideas

Putting pictures of your loved ones on alternate square blocks gives it a great gallery and neat look. You can play with the borders and use interesting ways to decorate it!

 

Making a Photo Quilt

 

How to Make a Quilt Pattern from Photos

 

Learn how to make an interesting photo block quilt, an ideal gift for birthdays, anniversary, weddings ad cherish sweet memories always!

 

Photo Quilt Tutorial

 

Quilt Made with Photos

A black and white theme is the traditional sober look, which is an all-time favorite giving it a vintage look.

 

Photo Collage Quilt

 

Photo Quilt Squares Ideas

 

How to Make a Picture Blanket

You can choose to border images as per your creativity. Exploring new ways will make it look different. Using such geometric shapes gives it a 3D effect!

 

Photo Quilt Wall Hanging Pattern

 

Quilts Made with Photos

 

Printed Photo Quilt Fabric

 

Custom Photo Quilt Pattern

 

Wedding Photo Quilt Pattern

 

Photo Quilt Designs for Anniversary

 

Amazing Photo Quilt Design

 

Photo Patchwork Quilt

 

Photo Baby Quilt Patterns

 

Classic Family Photo Quilt Design

 

Free Photo Memory Quilt Patterns

 

Contemporary Photo Quilt Patterns

 

Quilts with Photos on Them

 

Make Your Own Photo Quilt

 

Family Tree Personalized Photo Quilt

This is a unique idea to make photo quilts! A great gift for your grandparents, in which they can cherish the best moments with their loved ones!

 

How to Make a Photo Quilt Blanket

An amazing work of art featuring the autumn (fall) season! The colors used are bright and gives it a vibrant touch!

 

T-Shirt Quilt Photos DIY

 

Some More Ideas and Designs of Photo Quilt

 

The basic procedure and technique of transferring the photos on the quilt are the same as described in the first tutorials. Follow it and create different designs to give it a personal touch. You can use different fabrics like flannel, fleece, rags, cotton etc for your project depending on your design.
Leave a comment