How To Make a Kantha Quilt | 14 Tutorials & Patterns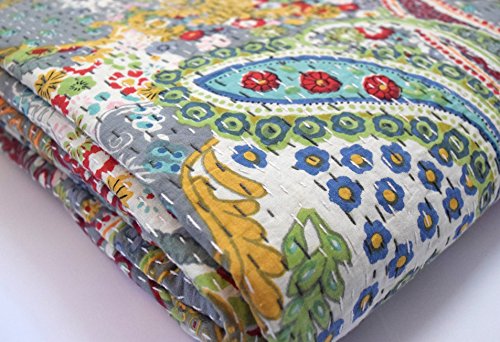 With their unconventional fabrics and uneven stitching in layers, Kantha Quilt stitched in bright colors are great for winters. Like other quilting traditions, this art form has its rich cultural roots in the states of West Bengal (India and Bangladesh).
For centuries in India and Bangladesh, Bengali women stitched together old saris and cloth scraps to form blankets and cushions. "Kantha" is the Sanskrit word for rags, and old cloth was believed to provide protection from harm.
Kantha Quilt
Kantha quilting one of the oldest forms of recycling. Cast-off clothing, home goods, and other textiles are stitched together in multiple layers with colorful threads. In Kantha, nothing goes to waste. These lightweight quilts have no batting.
Instead, they sport a very thin layer of recycled textiles (such as an old silk sari, cotton dhotis, etc.). Here, we are using a beautifully soft double-brushed flannel—the perfect thing for a summer night on the porch swing which can be used from both sides(reversible ones).
Collection Of Easy Tutorials On How to Make Kantha Quilt
Traditional Kantha quilts are handmade from soft cotton fabrics and look aesthetically very rich. Layering them on beds or sofas looks beautiful and creates a rich pattern! Wrap the pretty bright and vibrant quilt over yourself this winters.

The blend of simple and modern aesthetic is what makes Kantha Quilts artistically beautifully. It is a perfect canvas for some serious hand quilting. Doing some simple run stitches is all you need to do to make your own reversible Kantha Quilt.

Ikat or Ikkat is a dyeing technique used to make various designs on fabrics. Learn how to make this queen size blue Ikkat Kantha Quilt from this video tutorial. This indigo is one of the most popular shades used in making Kantha Quilts.

Get inspired to stitch this light-weighted Kantha Quilt. In some cases, the entire cloth is covered with running stitches, employing beautiful motifs of flowers, animals birds, and geometrical shapes, as well as themes from everyday activities.

The freedom of expression that this form of quilting allows is quite incredible. Why not make your own Kantha with scraps and colorful floss? Don't worry about perfectly-spaced stitches—these quilts are perfect in their imperfection!

Quilting each section with a different color of cotton cloth and doing some patchwork will make this Kantha quilt look like a bright burst of colors. This is ideal to gift to your children or grandchildren and pass on some memories.

You can use the handmade Kantha quilts, made from old saris, throughout your home — on beds, as curtains, as upholstery, or as wall hangings.

All Kantha throws incorporate multiple colors into their design. India boasts a colorful culture and this is evident in these authentic Kantha Throws. Multiple Saris are stitched together to make a single Kantha Throw, you can use your old traditional cloth/fabric to give it a classy vintage look.

Kantha is actually a form of embroidery, sometimes used to depict symbols of nature like the sun or the tree of life. You can make traditional motifs like trees, birds or more going with your creativity or try and make something unique with different types of embroidery patterns. The sizes of the Kantha Quilt varies, it may be king size, queen size or you can make it for your kids.

These Kantha hand-stitched quilts make great Christmas gifts for loved ones! You can use earthy colors or bright ones as per your room decor. You can choose to embroidery various designs or a simple run stitch on the printed cloth!

With Kantha embroidery, you can create beautiful and intricate motifs lending an instant ethnic touch to your quilts, bedcovers or throws. A very easy to stitch handcraft where you don't need to stick to the given designs. You can experiment with your imagination and colors.

If you want to make a thick quilt for winters, you can add more layers of fabric to it and make a heavy one.

In this given tutorial a duvet cover in bold prints has been transformed into a delightful Kantha quilted throw for the bedroom. Once you learn the technique, you can apply it to any other design of scrap cloths to make quilts, pillow covers, sofa covers, etc.
Leave a comment