How to Make Rag Quilt Patterns: 44+ Free Tutorials with Instructions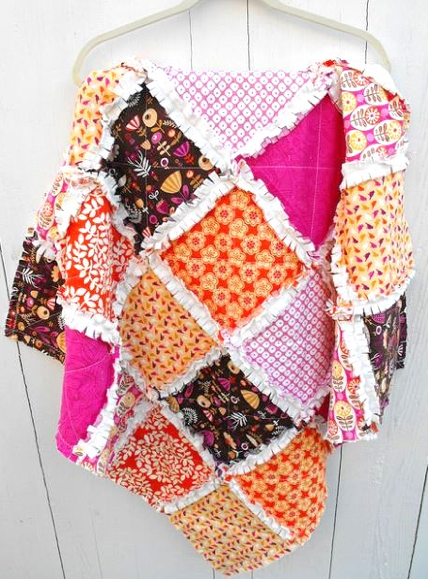 Rag quilts also called Raggedy, or Ragged quilts are wonderful for the first time quilting projects. They are easy to make and can be very creative too. These DIY Rag Quilt tutorials are geared towards beginners, with several designs that break down the steps to make it easy to follow.
Quilts come in all shapes and sizes, like a twin bed, king or queen size. Here is a guide to standard rag quilt sizes chart to help you out with dimensions! You can use cotton fabric, denim,  flannel, bandanas, handkerchief or any other rag of your choice to make quilts.
>> Kantha Quilt Patterns <<
Compilation of Free How to Make Rag Quilt Patterns for Beginners, Intermediaries, and Professionals
Time to snuggle in this cozy and warm rag blanket this winters! A handmade quilt is always special. Learn how to make this adorable nautical themed design with detailed step-by-step instructions and picture tutorials.

A great design using cotton fabric, flannel, and fleece. I loved the Halloween pattern, a great blend of owls, pumpkins and spooky pictures. Follow the tutorial for detailed directions!

This colorful rag quilt makes a cute gift for newborn babies and toddlers. You can use the striped stitch technique to make quilts for adults too. Just change the cartoon prints of the fabric. An easy to make tutorial which is done quickly. You can finish the edges or keep it uneven for a cool look.

Keep your babies warm with this handmade pink quilt made by stitching square flannel rags. Choose dimensions of your choice for the pattern.

This sweet and snuggly quilt with butterfly and stripe prints makes a lovely present for a new baby girl. The frayed edges and seams give it a fluffy finesse.

Recycle and use your old t-shirts and make this cozy and funky comforter.

Flannel rag quilts are soft and comfortable for toddlers and children. Sewing one cute floral patches in blue and pink look gorgeous. In this tutorial, they have tried applique stitch on the quilt to give it a creative touch!

Add some jean look to your bedroom with this rag quilt made from denim. You can experiment with the shapes and make your own unique creations. Denim Circle Rag Quilts also look beautiful!

This Autumn Scrappy Rag Quilt design is a free quilting pattern that is made out of warm and cuddle-worthy soft fabrics, making it the perfect cozy throw for your bedroom or couch.

A twist on the traditional rag quilt. This quick cheater baby rag quilt tutorial is great for beginners or those who are short on time.

This rag quilt uses cuddle or Minky fabric for extra warmth. You can make this quilt into any size by adding more or fewer squares.

Make this colorful handmade quilt as a keepsake for years to come. An adorable handcrafted one, an ideal gift for friends, and family. Try making one for your kid's room and add a splash of colors to the bedroom.

Fleece being a comfortable fabric makes an amazing pair. The main advantage is that you get your chosen designs from the hankies and for the layers, fleece is a reliable material.

Get rustic country like look with these ragged fabrics sewed into a comfortable quilt.

Sewing a rag quilt isn't difficult if you have the right supplies. You can also get the rag quilt kits if you don't have the necessary ones!

You can make this amazing small sized quilt/blanket for your furry friends this winter. This pattern is made without batting! All you need is some basic sewing skills to make it! Pet dogs, cats, and other animals love to snuggle and rest on this warm sheet!

A cute and adorable quilt pattern for kids. You can explore interesting designs like owl rag quilt or puppy dog quilt designs!

For adults or king size bed, you need to stitch the largest quilt size. Try combining a beautiful blend of colors to give your bedroom a bright makeover.

You can choose simple polka dots or a flowery print for girls or make it with camouflage military print quilts for boys.

This winter holiday take up this rag quilt project to make this unique design for Christmas!

This butterfly quilt is made using Simplicity 2935 rag butterfly pattern. An absolute treat to the kids for snuggling in during winters.

Time to sport a trendy makeover for your room or couch with this shabby chic styled quilt! A colorful delight for your eyes!
Leave a comment