25 Amazing DIY Snowflake Nail Art Designs with Instructions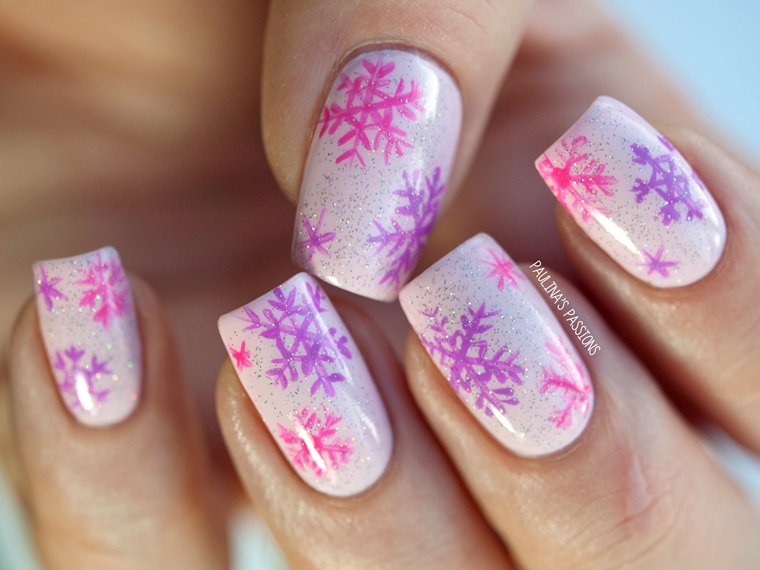 It's beginning to look a lot like Christmas! Time for come creative nail art this winter holiday season. Snowflake nail art is one of the favorite art when we talk about nail designs. There's something magical and cute about snowflakes so time to feast your eyes with some great designs. Find great Snowflake Nail Art Designs and Ideas from the pictures below with step-by-step instructions in tutorials and make them as soon as you can and you will be in trend with the latest fashions.
Compilation of DIY Tutorials of Snowflake Nail Art Designs
If you are not a fan of loud colors, try using this combination of subtle pink colored snowflake designs make your nails look stunning. Try this sophisticated pattern with full directions!

 

Blue isn't a perfect shade for Christmas, but if you are bored with the traditional green and red colors, you can change the base color and use this Christmas snowflake design.

 

The purple snowflakes made on the white base makes it look gorgeous. Do it neatly as the designs are very intricate.

 

Time to get inspired by the festive season and paint your nails with vibrant colors and detailed designs.

 

This Christmas go dazzling red with snowflake designs on your nails. Looks modish and is perfect for the party look.

 

Try making this simple snowflake nail design if you want to make a quick one.

 

This Gel nail designs give it great shining look on manicured nails. Add some glitter to add some element to it.

 

Explore new designs and ways to draw snowflake designs on your nails. You can use a toothpick to draw it!

 

These golden decals stamped on the nails are quite convenient if you can't draw a free hand design.

 

If you want to flaunt your toe nails with your short dress and stilettos, time to make adorable and stunning snowflake designs for your tor nails.

 

Frosted snowflakes look cute and elegant. Follow this video tutorial and make your nails look pretty this X-Mas.
Leave a comment