36 Easy & Free Crochet Baby Booties Patterns for Your Angel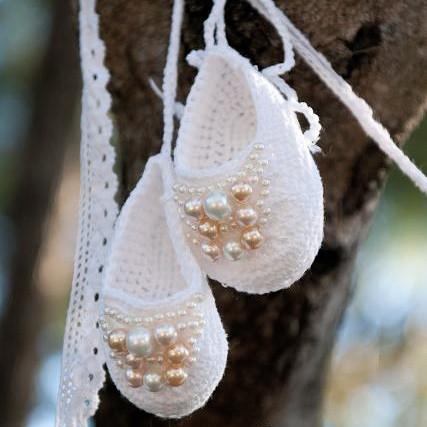 What can be more beautiful than creating something for babies? The babies are the most adorable in the world and when you make something for them then it is special, as you are creating them with love. With this in mind, why not make some cute little crochet baby booties? These will be perfect to keep your baby's feet warm in winter and they look amazing on their feet.
Love can be expressed in many ways, and making pretty crochet booties are one of them. You can follow the instructions for crochet baby booties provided below to make a pair by your own hands. These easy and simple DIY guides will give you some great creative ideas to make crochet booties.
36 Best Tutorials for Crochet Baby Booties
These are ideal as a gift for a baby shower or just to make for your newborn. Oh! How charming they will look.
Now, aren't these the prettiest things that you have ever seen? Now imagine how amazing they will look on the baby's feet.
These simple crochet baby booties are easy to make and you can follow the tutorial to make one yourself in your free time.
Your newborn needs care and love and you can provide both by making these crochet booties for them. The best thing about these booties is that they are extremely easy to make. The simple procedure will not make you work hard, distracting you from your child. You can make them when your newborn is sleeping.
Even though blue is the standard color for boys, you can choose any color for the baby boy. Yellows and greens look adorable on babies and why create any color distinction among babies? They should be able to enjoy every color used in these cookie monster cookies.
Single crochet is a gorgeous crochet pattern. Use this pattern to make the charming booties that your baby's feet deserve.
Make these with the same amount of love you have for your baby girl. Anything made with care cannot be anything but good.
These are perhaps the best free crochet baby booty patterns you are going to get online for this winters. The designs make these booties look like grown up boots and that's adorable!
This crochet baby booties tutorial will allow you to make some real easy crocodile stitched crochet booties and marvel at the stunning pieces of your handi-work, once you complete.
Awww! Aren't these the most delightful? Oh! The little ballerina that your little girl is. Make these for parties and pair it with a lovely dress. She will look like the angel that she is.
The beauty about these is that they look hard but they are really easy and simple to make. Follow the guide and nurture your creative side.
If you are wondering what to gift your friend on her baby shower, then these are just the thing. Follow the crochet baby booties tutorial for loafers and surprise your friend with the most precious gift that she will get.
Your baby is going to have her first birthday and you haven't found the perfect booties yet? Afraid not. These quick and easy crochet booties with lace will make her the belle of the ball and they go with all kinds of dresses.
You newborn needs the best care possible. When they are this young you try to provide everything that your baby needs. So why comprise on booties. Make these adorable crochet booties for your newborn and show how you care for them.
These free crochet baby booties patterns are just what you need for a stroll in the park or a visit to the zoo. The dual color combination stands out and makes your baby's feet look pretty.
Your baby needs protection in winter. These high top booties will completely cover your baby's feet from the cold weather.
Your baby is beautiful and so are these stitches. Imagine the compliments that you will get for creating such stunning pieces of booties. The tutorial on how to crochet baby booties step by step pictures will let you make this intricate crochet design easily.
Anything handmade shows your love and care for the one you are making. This guide will provide you all the information on how to crochet baby booties step by step with details and pictures.
Bows can make anything look endearing. They are lovely for a newborn's booties. Don't believe? Look at the tutorial and marvel at the cuteness of the booties.
There is a saying, "cute as button"; this is especially true for these booties with buttons. They make a simple crochet booty so better that you even wonder how that is even possible.
Make your baby girl the little diva that she is. With this how to crochet baby booties video and tutorial, you will be able to make these stylish pattern booties that are sure to give that fashionable touch to your daughter which you yourself possess.
Aren't these just fantastic? See, how good they look! Pearls can make anything look elegant and sophisticated. This free tutorial will help you to make these angelic booties by your own hand.
This pattern of crochet booties has been a favorite since the beginning. And why wouldn't it be? The pom poms add such an adorable factor to the booties that it is hard to not use them on the booties.
Animals should play an important part in your kid's life as they teach them compassion and empathy. Having these rabbit booties will intrigue your kid's love for animals and they will look cute doing that.
It is necessary to have a number of crochet patterns at your disposal if you're an avid crochet booty maker. The free crochet baby booties patterns that are available here will give you some great ideas which are creative as well as easy and simple.
It's never too late to learn. If you are having a baby or someone you love is having one and you want to surprise them with these crochet babies then learn how to make them from these easy tutorials that provide you step by step guide to make your own crochet booties.
Making crochet booties are quite easier than they actually seem. You will need the right guide and you will be able to overcome the fear of creating these. This DIY guide and pattern will help you through the process of making crochet booty.
It never harms anyone to look posh sometimes. Know that posh on babies is the most adorable thing. So don't worry about what people say, just make these cute booties.
 29. Crochet Baby Booties With Super Bulky Yarn
They are fluffy and they are snugly. They are the perfect pair that your baby needs.
Babies and baby cowboy boots can be the cutest thing that there is. These mature pair of boots looks so charming on your baby's feet that you won't be able to stop yourself from clicking a bunch of pictures.
The great thing about making your own crochet booties are that you can make them in innumerable patterns and sometimes you can invent new patterns as well. This vintage baby booties crochet pattern is one of them.
When you are making crochet booties for the first time, you will need some easier pattern and process to follow to make the booties. This DIY tutorial is specifically designed for beginnerswith step by step instructions.
You may have worn Converse shoes a bunch of times. How about making one for your kid? That too in crochet.
White and Red goes with almost every dress of your child. So make these crochet booties following this easy tutorial and take advantage of its versatility.
This stitch is just the right thing to go with crochet. They are just simply adorable.
This is another one of the delightful crochet patterns. How to crochet baby booties step by step pictures and tutorials will help you to make these.
It is always nice to get some help when you are trying to make some as endearing as these crochet booties. These DIY tutorials will help you with a step by step instructions to guide you on making the fantastic crochet booties that are going to bring a smile on your little ones face.
Leave a comment