30 Interesting Ways of How to Make a Cootie Catcher with Templates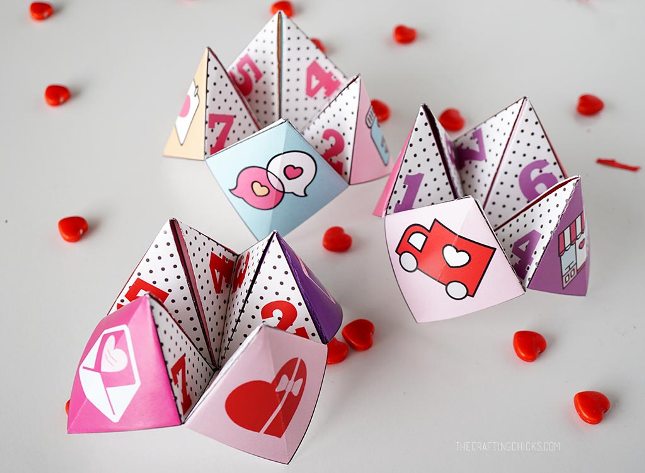 Cootie catchers a.k.a fortune tellers, chancers, chatterboxes, scrunchies, call them with any names. The little paper toys are easy to make and fun to play with. You can make them quite easily yourself, but if you want lots for a party, wedding, hen night, birthday or slumber party, it's great to be able to print your own. We have compiled the best cootie catcher designs and ideas for various occasions with the free template and PDF patterns available for many.
Compilation of Fun DIYs to Make a Cootie Catcher for Kids
How to Make a Cootie Catcher

If you grew up in the 90's, then you'll probably remember making these origami cootie catchers or "fortune tellers" at school! These creative cootie catcher projects are great for kids and grownups alike!

Read the full tutorial for this paper fortune teller game here.

Directions to Make a Cootie Catcher

For those of you who like the idea, this tutorial is designed for summer fortune tellers to print out. Patterns and numbers are included. All you need to do is print, fold and fill them with activities.

Get the Full Instructions & Free Printable Here

Harry Potter Cootie Catcher DIY

For all Potterheads, this is going to be fun. Put the Harry Potter characters of your choice and have a great Halloween! This fortune teller will decide which Hogwarts house you should belong to!

Get the full tutorial and template here!

Cootie Catcher Craft Ideas

Personalize your fortune cootie catcher and play with friends and family with interesting text in it.

Instruction to Make Cootie Catcher (Dr.Seuss)

Get the full tutorial and free template here.

Shark Cootie Catcher Ideas

Instructions and Free Templates here.

Animal Cootie Catchers ~ Lion

This super cute lion design for kids is taken from a tutorial on Moodkids.nl

Thanksgiving Cootie Catcher Fortunes

This wonderful easy paper game idea for kids. You can find full instructions in this tutorial here at thecountrychiccottage. Print a few of these designs and include them in your kid's table during Thanksgiving dinner.  A fun way to keep the kids occupied while the adults talk.

You can download free pdf template to make this pattern here.

Cootie Catcher Games for Halloween

Want to make a non-sugary treat for kids? You can make these Halloween Cootie Catchers and use them as a party activity or fun game or even pass them out at Halloween.

For full instructions visit this tutorial on lililuna.

Get Free Printable for this pattern here.

Cootie Catcher for Christmas

Learn how to assemble these cool cootie catchers for Christmas this year. Kids will love these cute characters like Rudolph and Santa as Fortune Tellers. A fun 5-minute craft for kids this holiday.

Get the complete tutorial with instructions here at Redtedart 

How to Make Amazing Bunny Cootie Catcher for Easter

Create this eye-catching fortune teller for your kids this Easter. Handmade crafting ideas is always special for kids.
Leave a comment