How to Make Cheerio Bird Feeder: 16+ Easy DIYs and Tutorials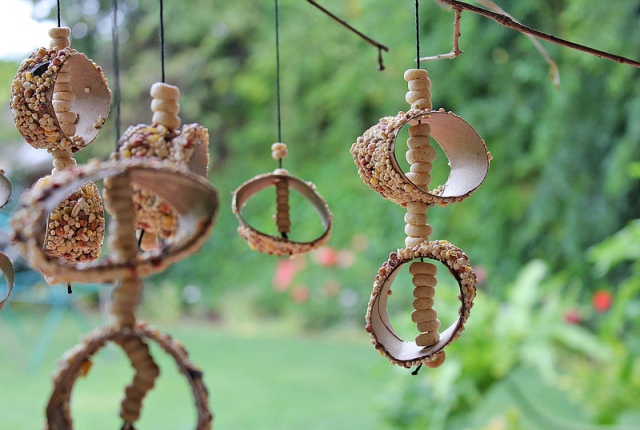 Crunchy cheerio, the little breakfast rings are your kids' favorite meal to wake up to. But Cheerios are a wonderful treat for your feathered friends too. Birds love snacking on cheerios of all kinds. Try making some amazing Cheerio Bird Feeder designs and hang them around your garden, backyard or windows and enjoy bird watching.
Happy snacking little birdies!
Different Ways to Make Fun Cheerio Bird Feeder Craft with Step-by-Step Instructions for Toddlers, Kids, and Adults.
Try making an amazing birdfeeder with cheerios, pinecone, peanut butter, and birdseed for your feathered friends. They will now have a variety of food to choose from and a perfect perch to rest on while they snack.

Feeding birds is a great feeling, for kids and adults. This is an easy to make a bird feeder with cereals and cheerio. Make this simple craft with kids, who love watching birds eat from handmade bird feeders.

Some Cheerios and ribbons threaded in pipe cleaners can make some amazing cheerio craft! Follow the instructions and make Valentine themed feeders and sen love messages to your caged or free birds.

Make this amazing cone-shaped bird feeder with Cheerios for your lovely winged friends. An ideal quick craft for kids this Christmas!

With some easily available supplies for this cheerio craft, you can make these no-mess bird feeders with pipe cleaners and Cheerios..that's it! Turn and twist the pipe cleaners in wonderful shapes to go creative with bird feeding around your backyard.

Make this fun and creative bird feeder with cheerio and blueberries in different shapes and treat the birds in your garden or backyards!

A fun cheerio craft for kids which can be made quickly. In this tutorial, the Cheerios are threaded onto pipe cleaners and wooden craft sticks and given different shapes and hung to the trees! Wish the birds start coming soon and feed themselves with some yummy cheerio.

Make interesting and unique designs for bird feeders with cheerios. You can make them into any shape you want.

Hang these pretty birdfeeders from a tree, bush, hook- anywhere outside that you think your birds might like to eat. It may take a little while for the birds to find them, but they will be happy chirpers when they do!

Hang your handmade cheerio creations on the tree and enjoy watching the birds snack on it.

Explore some interesting designs and recycle some cardboards and create amazing bird feeder designs with cereals and cheerio for your feathered friends! They look amazing when hanging and will surely attract a flock of birds for a great treat!

Children love making these unique birdfeeders. You can hang it around your garden or window and enjoy watching birds snacking on them!
Leave a comment