How to make DIY Burlap Curtains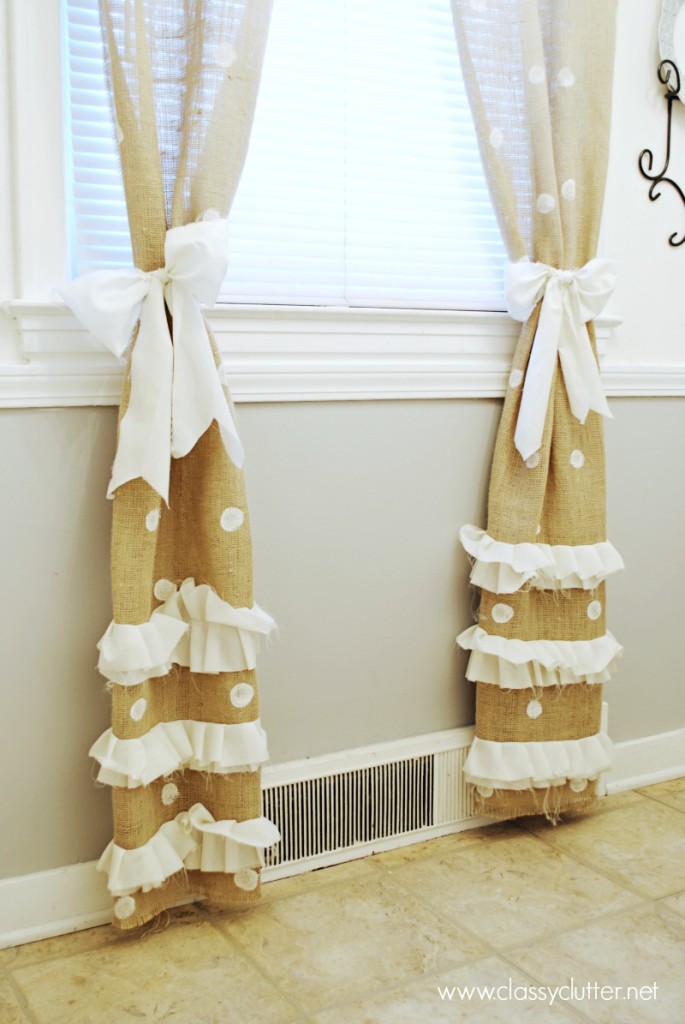 Burlap bags and burlap sacks have become quite popular. These eco-friendly items have made their way to your closet swiftly. They are recyclable and versatile and that is why people are using more and more burlap fabrics to create their own accessories. Bags and sacks have become common now, so why not try something absolutely new and novel? Let's make burlap curtains. Yes you read it right, burlap curtains! Just when you thought that you have exhausted every kind of use of burlap fabrics, voila, enters the curtains!
Have you every seen the beauty of burlap fabrics? The net-like texture is perfect for curtains as they create a soothing sunlight effect in your room. The earthy, rustic color goes perfectly with your room, and if you dislike the brown color then you can always dye them. You have the liberty to decorate them according to your taste. Want to know, how to make burlap curtains? Search no more, as here is some DIY step by step easy and creative guides to create your own burlap curtains.
Collection of Quick, Simple DIY Burlap Curtain Ideas & Tutorials
1. Burlap Shower Curtain
Ever thought to give your bathroom the much-needed attention? Start by using a burlap shower curtain. These are sure to make your bathroom look fantastic and give your guests something else to look into rather than your medicine cabinet.
Lined Burlap curtains will give your room the much needed details. You will be surprised with the result. If you have an abundance of burlap fabrics then go for this option.
What's best about burlap fabrics is its netted texture. This texture allows the light to pass through them, making your room illuminated enough that you feel a level of coziness. Make burlap curtain panels and revel in its wonder.
This is a burlap curtain idea you won't be able to ignore. Just look at the intricacy of the design. What more could be better suited for your room?
This is perhaps one of the easy burlap curtains to make. The brown color of the burlap fabric will add a rural farm-like touch to your room. For best effect use it against the white or earthy wall color.
Curtains are an important kitchen décor. With this guide, you will be able to make homemade burlap curtains for your kitchen in simple, easy steps.
Valance Curtain designs add a level of elegance to your home. Making them in burlap fabric will give you that same elegance and sophistication, yet it keeping you rooted. This tutorial will give you an idea of how to make your own burlap valance curtain easily.
8. Burlap And Lace Curtains
Lace and burlap is a match made in heaven. The fine detailing of lace goes perfectly with the blunt design of the burlap fabric. Make one yourself and witness the beauty.
White Burlap Curtains
You can easily dye the burlap fabrics and make white colored burlap curtains to go in contrast with the color of the walls. Easy tutorials like this will show you how to dye a burlap fabric white.
Burlap fabrics are best for cafes. The brownish-yellow color of the fabrics goes perfectly with the coffee colored theme of the café. Most cafes are painted with earthy tones to psychologically impact you with the taste of coffee. Burlap curtains fit right into that theme. Moreover, you can recycle the burlap coffee bags or sacks to make interesting curtains that go perfectly with the coffee theme of the café.
Who has so much of time to sit and sew a curtain? Just get some glue, anything that has a strong adhesive power and you are good to go. These will finish in no time and you will be left with a curtain that no one will even understand the difference.
Designs and patterns are what make a curtain beautiful. This ruffled design will also do the same. Follow the guide to make these unique looking curtains to go with your amazing home décor.
The burlap curtain tie backs are easy to make and you can make them at your home just by following the step by step guide provided. Once you have completed, you will be proud of your achievement.
Burlap Shower Curtain With Bullion Fringe
Bullion fringe are a beauty in itself. Add to them the tone and texture of burlap and you have a winner in your hands. The burlap shower curtains with bullion fringe are perfect to get a little but crafty and produce something so beautiful that your guests could say nothing but appreciate it.
These curtains made from burlap are something every home needs. Easily created, yet it adds a value of labor to the creation, as they seem that you have spent days to create such a stunning piece of décor.
Burlap fabrics have a strong durability and a long shelf value. It is for these reasons that you can recycle burlap sacks to make pristine curtains for your home.
DIY Painted Burlap Curtains
There are so many DIY tutorials for you to make your own painted or decorated burlap curtains. You can design them as per your own taste and you can use acrylic colors to paint them. Use stencils to paint interesting and fun designs. Get crafty!
Use a thick cotton lining to create your own burlap blackout curtains. The thick cotton lining will not allow any light to pass through the curtains. These are the best option during summer.
Burlap, the fabric in itself is rustic and earthy. These fabrics carry the flavor of earth and the color, the texture, and even the smell will testify to that. Making burlap curtains are nothing but adding the rustic touch to your home.
Now that you have acquired every possible knowledge to create your own burlap curtains, what are you waiting for? Buy some burlap fabric and get started with your unique burlap curtain. Make sure that you wow your guests with your fantastic creation.
Leave a comment