How to make DIY Burlap Gift Bags | DIYs & Tutorials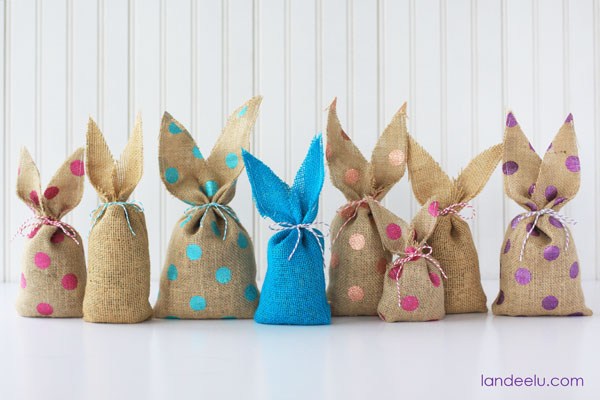 Having a burlap bag as a fashion accessory has been quite promoted. Even you may have one in your closet. These eco-friendly fashion items have become a trend among the millennials. It's rustic, earthy look and versatility have made it an ultimate piece of handicraft to go with your casual outfits. Now setting aside the obvious use of burlap, have you ever thought that this burlap can be used for making gift bags as well? It may come as a surprise to you, but burlaps are great for making gift bags and you would be amazed to know the numerous styles of gift bags that you can make with burlap.
Move over from your plastic gift bags and wrappers, it's a new era now, and new era certainly demands new items loaded with creativity. Burlap gift bags fit exactly into the criteria. Plastic gift bags and wrappers are not at all eco-friendly, even an environmentalist will protest against paper wrappers and bags, so the best option to go for, is burlaps. These are easily decomposable as burlap is a fabric made from jute and frankly, they come cheap. Now, how to make gift bags out of burlap? Don't wonder, because, there are several burlap gift bag patterns that are easy, quick and simple to make. Here are some DIY that will provide you step by step guide to make different easy styles of burlap gift bags.
Collection of How to Make DIY Burlap Gift Bag Tutorials
Now, if you have ever carried gifts in your life, and it's suspected that you had, you would know what benefit a gift bag with handles serve. Put your gift in the bag and just carry them to your invitation. No need to hold them this way or that way; no worry of dropping the expensive gift that you've bought. With handles everything is perfect.
As it has been the case, quite often, you may have bought some amazing crystal curio to gift your loved one. This beautiful showpiece deserves the perfect gift bag to match its flawless design. The burlap gift bags generally come in large sizes, so what options do you have? Make your own. Just get the measurements right and make your own burlap gift bag to go with the gift that you have bought.
Large burlap gift bags give you the opportunity to carry that lovely vase or wall clock into the party. These large bags will provide a nice cover for the huge gift that you are carrying. Make sure that you have enough burlap fabric to create this bag which can be used for gifting wine bottles and more.
These are perfect for carrying jewelry. Whether you are planning to gift it to your wife or partner or you are giving it to your loved one, these mini sized bags will perfectly encapsulate the jewelry box, adding another level of gravity to the gift. This tutorial is about keeping all kinds of fabulous treats in this mini Halloween Burlap Bag
Now that you have got yourself covered with the tutorials of large, small and mini burlap gift bags, it is natural that the next in line is a medium burlap gift bag. These are perfect for carrying clothes to gift someone. These are not as big as the large ones that the gift will look small and odd inside the bag neither re these so small that the gift won't even fit inside the. The medium burlap gift bags are of the perfect size.
These are perfect as thank you gifts for the guests at your children's party. Moving away from the boring old plastic goody bags, these are a welcome change. Draw on some Disney princesses or superhero to bring out the smile in your little guests.
Why not make your wedding or your bridal shower a little bit more precious? You maybe are planning to use favor bags for your wedding, instead of using the conventional paper bags, use burlap and surprise the guest. Color them and design them with laces to make it more intimate.
Candies are something that everyone likes, especially during Halloween. So why not make it a little bit more interesting by putting them in small burlap sacks and designing them with spooky Halloween themed designs? You can also put some candies in decorated burlap sacks and present them to someone on to make them feel special.
These are amazing! Drawstring bags are just cool in itself, add to it burlap and you have a winner in your hand. Use decorated strings to add that touch of perfection to the bags.
This eco-friendly alternative will make you the talking point at the party, if you feel like it, then get creative and decorate the bags, otherwise. These burlap bags are amazing in itself.
Christmas is perhaps the only time in the year when you buy an innumerable amount of gifts. With gifts comes the headache of wrapping them. Let's say you have a solution here. Burlap bags are perfect for your gifts. Create your own Christmas burlap gift bags by decorating them with Christmas motifs and colors. And to add that little bit of holiday joy, customize each bag according to the person you are gifting to.
Creativity makes a huge difference. Want proof? Then look at these burlap bags which have been made combining lace with burlap fabric. The intricate designs of the lace are a direct contrast to the robust, blunt design of the burlap fabric. And that is what makes them so beautiful.
Why waste you time in sewing when you have glue in your desk drawer. These burlap bags are the easiest to make. Just have a hot glue gun or any glue, a piece of burlap fabric and some strings, you have completed about eighty percent of your bag.
14. Burlap Gift Bags With Wooden Handles
The wooden handles are multipurpose. First, they make these bags look amazing. Then these handles add a touch of elegance to the bags. Adding in the endurance factor to the bags, the wooden handles make them easily reusable, enhancing their lifetime by years.
Who doesn't like personalized items? Personalized items make a person feel intimate and loved. That person knows that you have taken out the time to make something that is unique and exclusive. Make someone feel special by creating a burlap gift bag that is personalized for that person only. You can draw initials, print pictures or stick photos. The ideas are in abundance but make something close to that person's heart.
If it is that time of the year when you are planning to go hunt for chocolate eggs in the garden, then make this year memorable. Put the eggs in small burlap sacks in the shape of bunnies and place them around the garden. All you need are colors, fabric and a lot of fun.
A burlap gift bag does not mean that you have to keep them drab and boring. Decorate them as per your liking. Color them, use sparkles, stencils, stones, stickers, anything and everything. Just go nuts. You can never go wrong when you are crafty.
Kids are excited on all occasion. So make your burlap gift bag or a small burlap pouch look fun. You can also color them in either blue or pink or even a gender neutral color like yellow. Draw some baby pictures or cartoons on the bag to make it look interesting.
The best thing about handmade burlap gift bags is that you can make them to your liking. Take the measurement of the gift and make a perfect bag that fits your gift like a glove.
Now that you have a thorough idea about these gift bags, treat bags, pouches made of burlap get to business and make some great burlap gift bags to astonish your families and friends on their birthday, wedding etc.
Leave a comment