22 DIY Paper Mache Eggs for Easter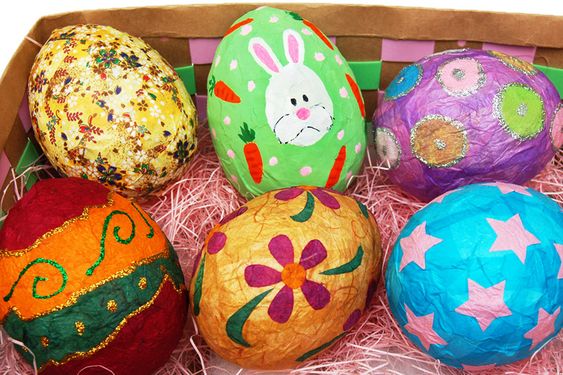 If you're gearing up for Easter with some handmade stuff then DIY paper mache eggs are fun to make and look lovely placed in your house decor. They easily add a spark of brightness to the mundane decor. So get your kids along and indulge in this crafty affair which is simple to make and fun to design. Today we are discussing some interesting ways to make your own paper-mâché egg for this spring with simple ingredients available at your home.
For people who haven't tried paper mache craft before here are the steps involved in making the perfect recipe for mache eggs.
Mix some glue and water in a bowl in the ratio of 3:2 and mix them well (For paper mache paste)
Now, dip the paper cuttings in the glue completely.
Start with sticking the newspapers strips on your plastic egg or balloon.
Be sure, you completely cover the egg with the glued paper strips.
Once dry and hard paint and decorate them.
DIY Paper-Mâché Egg Tutorials with Instructions
These cute painted paper mache eggs are made with easily available materials such as strips of paper, glue and plastic eggs (as a base) for this project. You can also alternatively use styrofoam as the base. Once the eggs are ready and dried, paint it with interesting patterns.
These set of colorful eggs are made from small balloons and filled with treats for little kiddos to go crazy for. And the eggs are decorated with bright confetti and this craft will surely get your children excited.
This is quite a simple tutorial which can be made using balloons, plastic eggs of cardboard. Once the paper-mâché is dried on the egg you can paint it or wrap it with paper and ribbons to fill your egg cartons this Easter.
This is quite a colorful design and is quite simple to make with bright and torn tissue papers, glue, water, and some balloons. Try using both smaller and bigger balloons, for the project. As the smaller ones will be ideal to decorate the Easter basket, while the big ones can be your hanging decorations.
Learn to make Paper Mache Letters – Here
I loved these quirky unfinished eggs designs. You can easily use them as ornaments to decorate your interiors or fill these half-broken eggs with treats for the little ones.
Since these are dinosaur mache eggs in the tutorial, you need to use big balloons for this craft. Kids love playing with Dino eggs and they are fun and messy to make them. The big eggs are placed on a bowl and you may also fill them with small gifts for your child. Once they find these eggs they will be thrilled to get their gifts along with the eggs.
You can make a dinosaur also and place these eggs beside him. A lovely theme for your Halloween parties too.
I loved these polka-dotted Easter Eggs. You can create them easily with small water balloons, some tissue paper and fill them with toys and treats and tie interesting messages to the string. Kids will be quite excited to see these and to open them to see their gifts.
If you want to make paper mache eggs without using balloons, then this the best option. This tutorial uses homemade glue and egg boxes. You can easily store your itty bitty stuff inside it and kids love to play with them.
I love the detailing and design done in this tutorial. A perfect Easter Egg Basket to keep your bunnies and treats.
The egg is decorated with tissue papers at the end. You will need the balloon pump to blow those tiny water balloons in this project.
To make painted eggs, use plain white paper to make the topmost layer of your papier mache once the eggs are dry and hard. Paint patterns, textures or some Easter-themed images like bunnies, flowers and carrots and add some glitter to it.
Once your eggs are done, you can also use printed antique wrapping papers to wrap the top layer and add a vintage look to your eggs.
This is a very interesting one for all Game of Thrones fans. A unique design with a classy touch to put on your tables.
With so many designs now you are good to go and make funky paper mache decorations for your home. Attach some strings to your creations and hang them or place them in a basket near your Easter bunnies. Use your creativity to add to the charm to your hanmade decor, and share these ideas with friends and family online.
Leave a comment