Most Amazing Tie Dye Shoes: 22+ DIYs and How Tos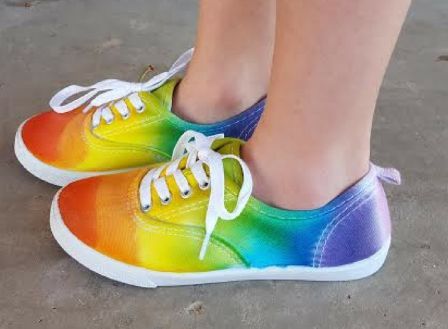 Tie-dying techniques has its origin in ancient times. Off-late it has gained immense popularity and is a great summer craft. From tie-dye shirts, bags, shoes and lot more ideas are the new trend. I'm sure you love your pair of Sketchers, Adidas, Converse or Vans.
Maybe they are old and worn out but it's difficult to part with them. So why not give them a cool makeover using different tie-dye techniques. A splash of various hues on your old pair will give them a new look. You can use various ways to tie dye shoes – you can use fabric dye, food-coloring, bleach, markers, sharpies and more to dye your shoes. Explore the array of ideas for this summer project and make your own stunning shoes!
Compilation of  How to Tie Dye Shoes DIYs and Tutorials
Give your boring white tennis shoes a new vibrant look and tie-dye them in shades of your choice! It's a quick craft to do with kids too.

Wondering how to tie-dye watermelon shoes? A unique idea to turn your pair of canvas or keds into sassy footwear. Follow the step-by-step instructions to make your own dyed shoes!

An amazing tutorial to dye your white canvas athletic shoes and give it a cute and funky makeover. A great style statement for this summer look. DIY today!

Turn your favorite Nike Sneakers into a colorful one with fascinating shades of tie-dye colors.

Tie and dye on shoes is a great fun craft for kids. They love to mess around and get creative with colors. This ombre pattern makes a great fashion statement. A simple design that can be worn by men, women, and kids. All you need is your white canvas and tie-n-dye kit to get going!

This cool blue ombre pattern is a great one for summer days! A quick 20-minute craft with simple supplies. The color combination of contrast laces is stylish.

Splash some colors this summer on your old white shoes and make it trendy. A rainbow pattern with all colors looks funky and adds a bright element to the footwear.

This stunning design in purple is surely going to get you lots of compliments. Girls wear your art and make amazing designs for your shoes. You can use your skating or basketball shoes which have gone for a toss and give them a pretty makeover!

This dye pattern is called Ikkat. A magnificent design to add to your pair of tennis shoes!

These high top converse shoes look great with denim and skirts. You can dye them in 2 different shades to make it trendy.

Pair this homemade tie and dyed shoes with your denim or white pants and sport a cool look for summers.

A freaking awesome tie-dye project for craft lovers. You can have a fun crafty time with family and friends and recycle your old shoes and design them new!

This YouTube Video tutorial shows the steps how to dye your own white Converse Chuck Taylors.

An amazing technique using shaving cream, baking soda, and food coloring to turn your bland plain white shoes into abstract art. Follow the video tutorial and make this easy DIY today!

Once you have made your design with the markers on your canvas, you need to rub alcohol on them so that the color blends and gives the desired look.

These homemade dyed shoes are a perfect match with your uber cool white trousers or denim this summer.
Leave a comment