30 Ladder Bookshelf DIYs and Bookcase Plans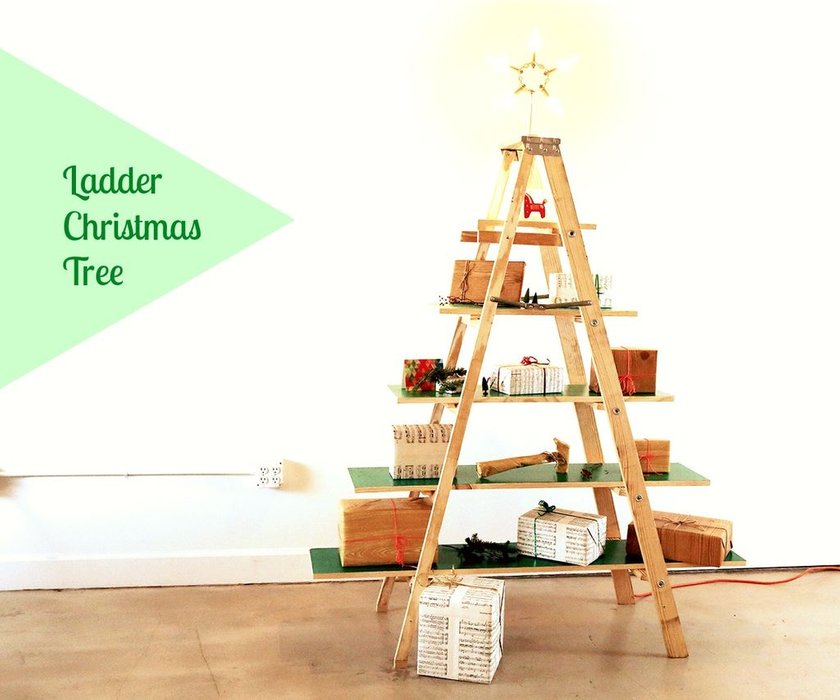 Repurposing an old ladder into a bookshelf can instantly turn a room into a library and organize your cluttered corner into a modern storage space. Building a functional home décor by recycling distressed ladders is a trending style these days. You can make a new ladder from pine wood or pallets or use an old one and lean it against the wall for a cool display or your books. Learn how to transform old ladders into a new bookcase with step-by-step instructions in the tutorials to guide you.
You May Also Read: "DIY Pallet Bookshelf Plans"
31 Ways to Build Unique Ladder Bookshelves and Ladder Bookcase Ideas
If you want to add a rustic stunner to your living room, then this simple yet classic project is surely the answer. You can easily install this on the wall using L brackets and repurpose your old ladder. You can display showpieces and small plants to add more element to the interior space with this unique horizontal bookshelf.

This is a simple ladder shelf which is ideal for beginners who want to make their own furniture. This shelving unit is comprised of 2 legs and 5 shelves. The linked tutorial demonstrates step-by-step instructions and plans to build this shelf in a day!

This bookshelf is a wide one, giving all bookworms ample of space to accommodate their treasured books and reading essentials. If you need a small library, just add some more shelves to the plan. You can use wooden pallets or plywood to create this tutorial.

This DIY tutorial shows you how to upcycle an old ladder. You can make 3 shelves using wooden planks. This is a great project for beginners, as you only need a power drill, sandpaper, wood screws, and paint from the hardware store.

This is a simple re-do of an old ladder dumped in the storehouse. You can easily alter it a bit and place it in the corner of your room and decorate it to refurbish it. A pocket-friendly addition to your furniture with a custom touch.

This is a great way to recycle old wood and make affordable and quick DIY rack to keep your books. This is a small rack which is ideal for little kids to reach their books easily.

This is a creative way to display your favorite collection of storybooks and novels in your room. This can be left unfinished to add to the rustic look or you can customize it to your choice and paint it to decorate it further.

This design is made using MDF and other essentials. An ideal fit in your study with the classic black look.

A handmade eye-catcher in the disguise of a bookshelf, the ladder shelf can give a tough competition to the designer shelves available in stores. You will need some basic tools and supplies from the hardware store to make this project. However, I would love to fill one corner in my study room with this bright bookcase.

Retaining the natural, unfinished and distressed look is amazing for all you who have a fetish for antique décor.

This is a tall leaning ladder transformed into a  bookshelf with laptop desk space. An absolute eye delight, and big enough to store books and other accessories. This bookshelf has an additional feature of a laptop desk space where you can sit and work/study comfortably.

If you have a plethora of books and you find difficult to organize them, then this tutorial is the answer. You have ample of storage space to stack your books in the deep drawer shelves.

You can easily transform your wall with these chic shelves. A great storage solution for students.

Get a traditional ladder from your store and place some shelves in between them for holding books or potted plants. You can paint the ladder in the color of your choice to rustic piece a modern touch.

This DIY combines floating shelves and ladder shelves to create this unique open shelf which can be mounted in any wall of the room. This is wide enough to provide extra storage space for your books. A free downloadable PDF plan for the project is provided in the linked tutorial.

I loved the slim, modern bookcase which is leaning against a wall like a ladder. This is a perfect vertical storage unit for books and adds to the home decor. Get complete instructions on bhg.com which is linked in the tutorial.
Give your treasured books a new space with these projects listed above and give your room a makeover.
Leave a comment