20 Creative DIY Paracord Dog Leash Patterns | Ideas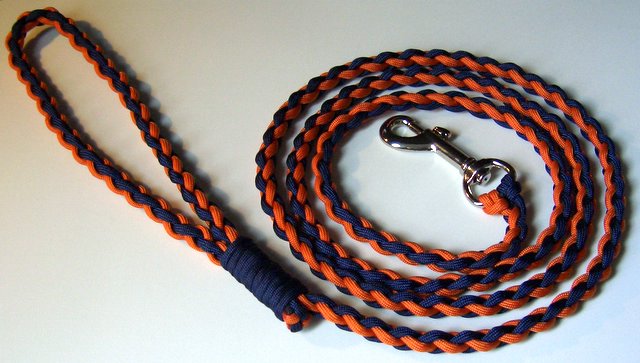 Learn how to make amazing Paracord Dog Leash Designs for your cute little dogs. It's a wonderful feeling to use a handmade and homemade accessory for your adorable dogs! The patterns are easy to follow with step-by-step instructions!
>>Paracord Dog Collar ~ Paracord Supplies 
Easy Tutorials and DIYs on How to Make Paracord Dog Leash
A quick paracord project with simple steps. This leash is made using 2 colored cords and simple square knots as used in many bracelets. A perfect handmade craft for your puppy love!

An amazing DIY 4 strand round braid paracord dog leash for your adorable dog. A creative and homemade leash using 550 paracords.

Learn how to make your own dog leash with amazing paracord. Using cobra and king cobra stitch to make this design which is easy to make for beginners as well. A strong and durable leash perfect for your dogs.

Making a paracord dog leash is a great idea for your fur babies. Using 4 different colors of cords gives it a cool look. Light-weighted and easily washable, this DIY should be the right choice!

Parachute cord is a versatile rope and is perfect to make a leash for your dog. Keeping your dog energy in control when outdoor is a  daunting task. Using 2 colored paracords to make a strong leash is a good idea. Adding a hitch at the end to lock it to the dog collar will gather all compliments from friends!

This tutorial guides you with instructions on braiding a dog leash out of paracord with some basic techniques.

Making unique dog leash patterns with paracord is interesting.

This Youtube Video tutorial explains in details and guides you to make a strong 10 Foot long Cobra Weave Paracord Dog Leash. The camo dog leash will look great when you take your dog out for a walk.

You can make this simple dog leash using paracord in 5 simple steps.

Wondering how to make this 8 strand dog leash with paracord? Don't fret, this video tutorial helps you make a perfect one. An amazing DIY tutorial for paracord lovers!

Use different colors of 550 cord to make a bright dog leash!

Parachute cord dog leash can be made easily trying these amazing knots with easy to follow tutorials.

Learn how to make 4 strands round braided paracord dog leash in this tutorial using 2 colored cords.

This is a great paracord leash for your furry friend to go outdoors.

Make this heavy duty paracord dual dog leash for your restless fur babies.
Leave a comment