Tag: Kantha Quilt Patterns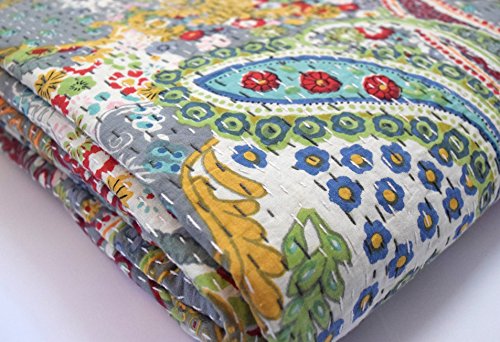 With their unconventional fabrics and uneven stitching in layers, Kantha Quilt stitched in bright colors are great for winters. Like other quilting traditions, this art form has its rich cultural roots in the states of West Bengal (India and Bangladesh).
For centuries in India and Bangladesh, Bengali women stitched together with old saris and cloth scraps to form blankets and cushions. "Kantha" is the Sanskrit word for rags, and old cloth was believed to provide protection from harm.
Kantha Quilt
Kantha quilting one of the oldest forms of recycling. Cast-off clothing, home goods, and other textiles are stitched together in multiple layers with colorful threads. In Kantha, nothing goes to waste. These lightweight quilts have no batting.
You Might Also Like: "How to Make Rag Quilt Patterns"
Instead, they sport a very thin layer of recycled textiles (such as an old silk sari, cotton dhotis, etc.). Here, we are using a beautifully soft double-brushed flannel—the perfect thing for a summer night on the porch swing which can be used from both sides(reversible ones).
How to Make Kantha Quilt: 15 Easy Tutorials with Instructions