20 Free Crochet Bracelet Patterns For Beginners & Skilled Levels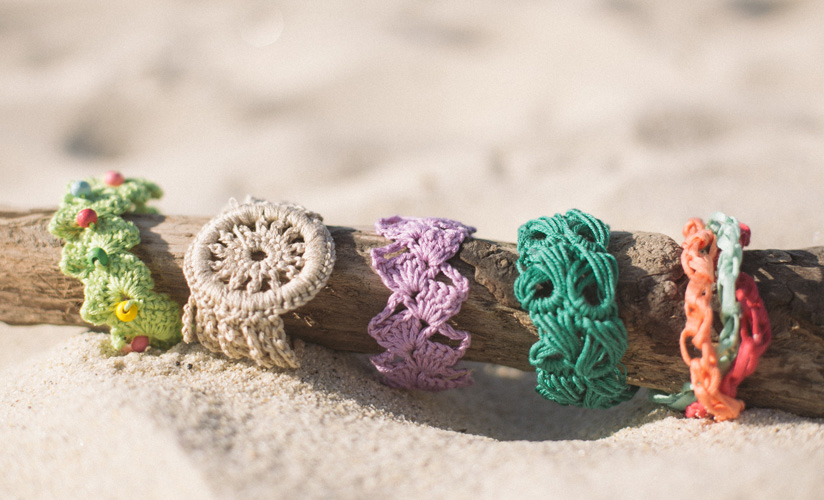 Looking for interesting patterns and tutorials to make your crochet bracelets? We have rounded up some of the most interesting and unique crochet bracelet patterns, designs, tutorials, ideas with complete step by step instructions to guide you.
If you are a passionate crocheter who likes to crochet just about anything, then there is limitless designs to  explore from this art of crocheting. You just need to inspired from new ideas to take your crochet skill on a further level.
Also See: Macramé Bracelet Patterns
A crochet bracelet can be made in varied ways, including multicolored, lace pattern, beaded crochet bracelet and a lot more which you can explore with your crochet hook and colorful yarn. Your wrists will look great when adorned with some handmade colorful crochet bracelets.
How to Crochet Bracelet Patterns: Complete Guide
Try making you very own crochet bracelet with wire and beads. Its a very pretty addition to your handmade jewelry. You can wear this bracelet with jeans and a nice shirt or a very formal cocktail dress.

Wireworks serve best for making crochet bracelets and for working with the wires, you must include various tools and materials.

 

What could be better DIY for summers than crocheting a beaded bracelet at home? Cool and cottony, prickled with bright bits of colored beads, the Sea Anemone Bracelet is quick and easy tutorial with 3-4 simple steps. 

Mixing the yarn with some beads, pearls, chains and buttons the crochet bracelets looks just fabulously pretty to intensify the glam and grace of your wrists.

 

Yes with the some colorful crochet yarns crochet sticks you can now get some cool and fun looking DIY bracelets to surprise your female friends.  Enhance the beauty and style of your wrist and wrap this flower- shaped bracelet around!

 

Make this elegant white lace cuff bracelet for yourself that will go nicely with your gown. Just follow the link and then the simple steps given in the video instruction.

 

Using super basic stitches like the chain stitch and the single crochet stitch, we can whip up a hemp bracelet or anklet easily in no time.

This nicely woven, sober-looking hemp bracelet is also a good choice for men who like to accessorize themselves.  You can customize the design and add or remove the beads and buttons as desired.

 

Friendship day is around so you may give handmade bracelets to your besties this time for a more personalized touch. This lacy bracelet tutorial by Very Berry Handmade looks delicate because it used embroidery thread.

 

Make this easy mixed media crochet bracelet in next to no time using metal chain as the foundation row. It only requires basic single crochet. Even if you don't know how to crochet, the following steps will show you how to get started.

You are not limited to yarn, experiment with crochet thread, thin leather cord or even thin wire. The possibilities are endless for this bangle style bracelet.

 

This intricately woven colorful bracelet celebrates circles. It can be a good hand accessory when worn with a long, flowing skirt. You may change the color combination to match with your attire and replace pink button with a small clasp or hook.

 

Broomstick crochet gets its name from 19th century crocheters who used a broom handle to crochet the lace. You can also do this pattern by using a knitting needle, crochet hook or dowel. Make an elegant wristband using a thread of any color of your preference.

 

A cuff-patterned bracelet gives your a trendy look and charm. You can easily chose colors in bold colors like black, red, brown or blue and gift your partner this wonderful bracelet on Valentine's day. Instructions in the linked tutorials have two versions – a loose bangle style bracelet, and a tighter cuff with fasteners.

 

I loved this creative bracelet design made using simple thread and few buttons.

 

Slide lock clasps work really well if you have one the right length to fit the bracelet's width. I attached mine using several jump rings.

Here are some step-by-step instructions if you are game to try. Here linked are 4 different styles to illustrate the versatility of this design approach.

 

This Boho Chic Bracelet is part of the 2019 Bohemian Chic Blog Hop. Perfect for leftover yarn. Add beads and charms for a little chic style.

 

Crocheting with beads allows you to be creative with your own crochet designs. There are obviously different methods to crochet with beads, so you should decide which method will be easy for you.

 

This tutorial provides you with a free crochet bracelet pattern with beads, and informs you on how to create this handcrafted beaded jewelry. The pink and purple thread against the silvery beads set off each other nicely!

 

Choose the size of the hearts y choosing the right yarn. Thin yarn will give smaller and cute hearts. Treat someone dear ones on this Valentines Day to a cute and pretty decorative crochet hearts bracelet.

 

Lacy Crochet Bracelet Pattern

These crochet flower bracelet patterns would be a great gift for your little girl. Craft flower motifs and interconnect them using crochet needle as per the desired size.

 

 

So, have you picked the one you want to work to go on your writst? Whether you are a proficient crocheter or just a beginner in this field, you are sure to find a project you would want to work on.
Leave a comment