How to Make a Flip Flop Wreath: 22 DIY Ideas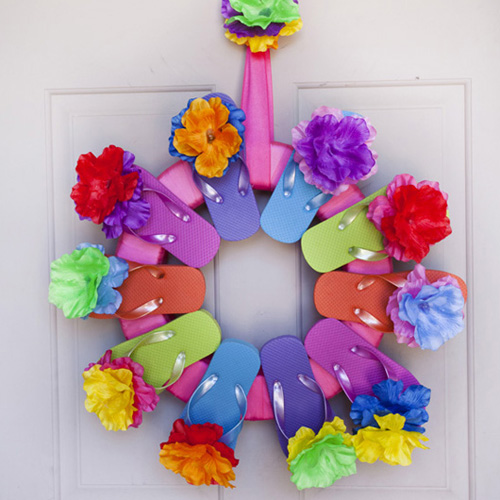 For me flip flops have always been a sign that summer has begun. Summer craft ideas like this don't get much easier. There are a few ways you can make a flip flop wreath. The most popular ways are to make them with either a wreath form or a swim noodle. Then add some flip flops and cute flowers like Daisys and you will have the best looking ready for summer front door wreath on the block.
lace this colorful wreath on the wall or door to add charm to your home décor. Decorate it with different types of stones or artificial flowers to enhance its grace; so try this easy project and enjoy summers.
Supplies:
You can get the supplies you need to make these wreaths just about everywhere. Flip flops that are inexpensive are sold at Walmart, any dollar store, or Old Navy.
Craft stores always have a big selection of flowers and embellishments so that you can add your own personal touches on your wreath.
22 Tutorials to Make a Flip Flop Wreath
Line up that colorful slip-on that you loved wearing to the beach but can't anymore and stick them around a craft ring. Add cute faux flowers and ribbons and stick them on the cross-section of the slipper band. Lastly add a cute welcome sign for a final touch. Tip – Buy new ones for different patterns, colors, and fun!

 

Buy some lovely artificial flowers and leaves along with a pair of the flip-flop to make this easy and sophisticated DIY.

 

Create this half and half colored pool noodle wreath through simple techniques and decorative items. Use contrasting colors for the pool noodle, saddles, and the decoration. Put it up on your wall with nothing else on it for a stand out a point or on your door.

 

 

The chic flip flop wreath is a cute summer décor item that can be used for your pool parties and summer showers. You can play with your creativity and give your wreath a horizontal pattern. That would be appreciated by the visitors for its beauty and unique creativity.

 

Give a monochromatic touch to the welcome door of your beach house, use a similar pattern or color slippers for the same. Follow the instructions to make one for yourself this summer. Add items like shells and flowers authentic to a beach to add a sophisticated vibe inside the house.

 

Spring means warmth, flowers, and happiness. Welcome spring with this bright, popping, and vibrant flip flop wreath. Hand it in your room to brighten up that boring wall or hang it outside your door for everyone to appreciate it.

 

Red, white and blue – glue these flip flops together and make yourself tricolor wreath for your 4th of July celebration. Add a ribbon of the same color for an easy, simple, and yet different item for your guests to appreciate on this Independence Day-themed wreath.

 

Add charm to your garden decoration with lovely flip flop wreath; the artificial butterfly and bright, colorful flowers are mesmerizing.

 

How to Make a Flip Flop Wreath

Flaunt your entryway with lovely flip flop wreath; it gives the cool and fresh feel of the beach.

 

Perfect craft activity for your children this summer vacation and the end result is something you can use for a really long time. Different color ribbons, flowers, deco mesh, plastic beach glasses, faux flowers when put together will help you make this multi-color flip flop wreath that you can show off to everyone. Paste the flip-flops side by side to make this lovely pattern; the bright, colorful flowers and meshes enhance its grace.

 

Spend time with your little ones to make yourself a burlap flip flop wreath for any occasion be it Christmas, Halloween, or a simple pool party. Add streamers or ribbon and other decorative items according per the theme. Your designer or worn-out rubber sandals with vibrant prints will be perfect for the craft. The burlap draped background lifts the entire design and brings all the items together giving it a rustic touch.

 

Holiday Flip Flop Wreath

Hang this blue flip flops and plastic starfish wreath on the inside of your window for an underground water feel. To us personally, it gives us the feel of SpongeBob. You can adorn the wreath with faux seashells, sea plants, or a starfish.

 

Outdoor Flip Flop Wreath for Christmas

Directions for Making a Flip Flop Wreath

There are several wreath frames in the market, but if you want to hide the frame you can use wire. Use hot-glue to stick all the items together and be sure of keeping it from children. Run ribbon through the bands or keep them hanging and you have a perfect 'do it yourself' wreath.

 

Flip Flop Front Door Wreath

Step-By-Step Procedure to Make Flip Flop Wreath
You can get the supplies you need to make these wreaths just about everywhere. Flip flops that are inexpensive are sold at any dollar store or Old Navy. Craft stores and frugal shops always have a big selection of flowers, accessories, and embellishments so that you can add your own personal touches on your wreath. Explore your imagination and refer to these ideas for some sunny season DIY fun to create vibrant wreaths for your summer
Leave a comment