31 Easy Crochet Fingerless Gloves Patterns | Tutorials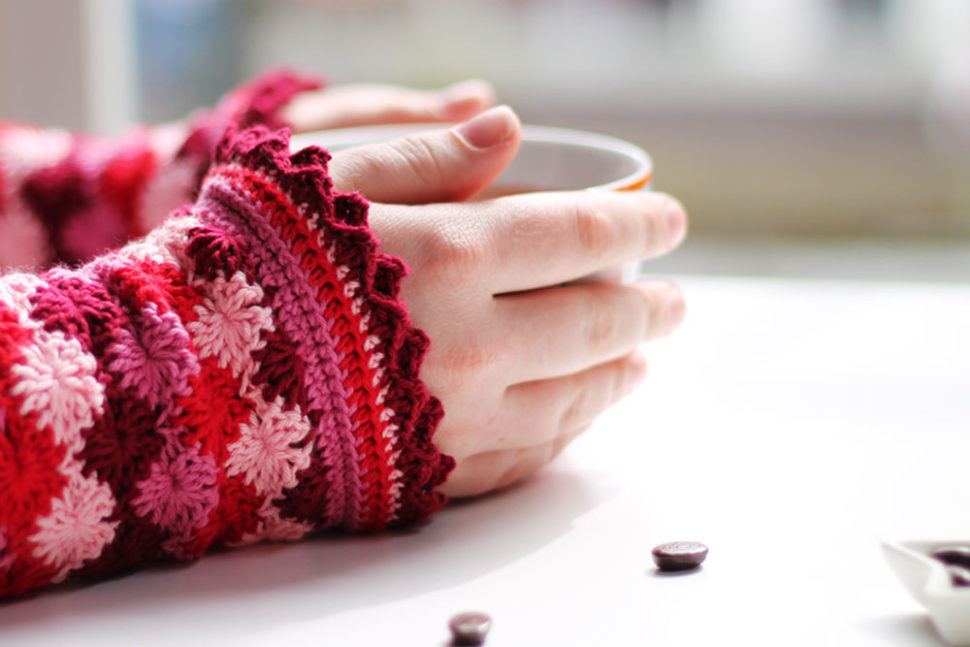 Winters are all about great clothes, jackets, warmers, and crafts! Enjoying the cold weather with a warm cup of coffee! It's winters knocking your doors, time to knit and crochet some amazing and easy fingerless gloves for the season.
Cover your hands with amazing colored and patterned Crochet Fingerless Gloves and flaunt your handmade creations! Sharing some simple and amazing Crochet Fingerless Gloves Patterns and Designs with all crochet lovers!
Collection of Free Easy Crochet Fingerless Gloves
Patterns & Tutorials
A perfect combination of comfort and style this winters to keep you warm! Knit these fingerless gloves with colors of your choice and flaunt this season! The tutorial explains step-by-step in details how to crochet it easy for beginners.

 

Fingerless gloves is an ideal choice for the in-between weather when it's not so hot or cold. It matches perfectly with outfits of all kind and gives a colorful element to the whole attire. The use of pastel color looks beautiful with this crochet pattern.

 

The use of amazing contrasting colors with this striped crochet pattern looks cute and stunning! Ideal for the winter season these mittens are surely a crochet project to be made.

 

If you are a beginner in crochet craft, then this is the perfect crocheting project you should start with. It's simple and easy to make with perfect instructions! A basic crochet fingerless gloves pattern made in a soothing color looks elegant!

 

Want to crochet something for the whole family? This tutorial is a great one! This has easy crochet patterns for everyone! Using different colors for each kind, it's an amazing idea to gift your family and friends these handmade mittens!

 

These lacy crocheted fingerless gloves are pretty enough for the winters! The intricate design adds an elegant element to the gloves and is perfect for all outfits.

 

The amazing use of different colors and the spiral pattern is unique and a style statement.

 

If you are looking for some cool crochet patterns then go for this design! An adorable handmade warmer for you! Lacy and pastel, a perfect combination for crocheting!

 

The creative use of the colored yarn with solid is apt for the winters to warm your hands! The instructions explain perfectly how to make these crochet mittens!

 

An amazing crochet project to start with for beginners!

 

These crochet gloves are great wrist warmers! The choice of colors and buttons to adorn is great!

 

If you have a passion for crocheting, knitting and exploring with wool, then just grab your knitting needle and make this amazing winter hand warmers for your kids!

 

Crochet a half finger glove this winters for men!

 

Classic vintage patterns for your crochet gloves with floral designs an lacy border!

 

Half Finger Gloves Crochet Pattern

The bright blue color and the design is a perfect combination! The tutorial has complete directions to make it easily!

 

This is the perfect pattern for crochet gloves for this fall season! In sync with the season and theme! Go for it this Halloween!

 

An amazing tutorial which explains all from needle to yarn to all instructions!

 

This one if my favorite pattern! Make your own crochet gloves and gather all compliments!

 

This tutorial is for advanced crochet knitters! The design has detailed stitching making the final product adorable!

 

These medium-sized gloves are weaved with green yarn and are half open to ease out the movement!

 

Ideal for the extreme cold season and wear to offices!

 

Beautifully Tunisian crocheted fingerless mitts for the winters! The tutorial makes it an easy task!

 

These cute crochet mittens with Minions design is idle for your kids this fall season! Try making this easy tutorial!

 

This video tutorial makes it simple to follow for all beginners!

 

This Christmas time to play with colors, yarn, lace and make magic! The unique design is stunning for the festive season around!

 

These cute puffed crocheted fingerless gloves are warm and cozy to combat the winter season! The button embellishments look cute and add a finished look to the gloves! You can add small crochet flowers if you want!

 

The pattern calls for 4 different colored yarns and adds a brightness to the beautiful floral design! I loved the catchy colors perfect to brighten up winter days! The borders are done perfectly!

 

The free tutorial uses butterfly stitch to complete the crochet project!

 
Leave a comment