15 DIY Cardboard Cat Scratcher Ideas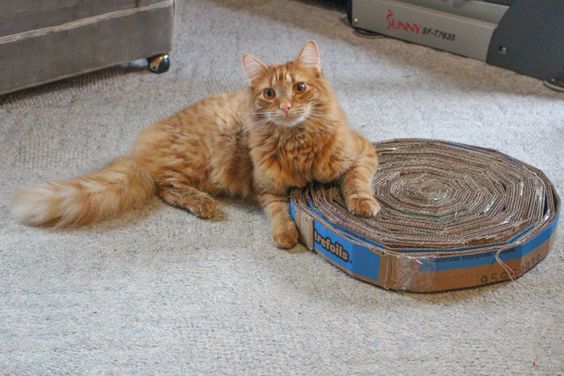 Most pet parents learn it later that scratching is an essential part of your cat's life owing to their genetic itch. And if they find nothing to scratch, they'll turn your carpet, couch, curtains, etc. into shreds to do so.  Here are some DIY Cardboard Cat Scratcher tutorials and ideas using simple, inexpensive items lying around at home.
By making your own cat scratcher, not only will you be saving some cash, but you might also stop your cat scratching away at unfavorable places. You can design your own cat scratcher in different shapes such as circle, square, cube, etc. While you can buy one from the stores near you, which can be quite a pocket pinch, so go cheaper version by making one at home.
I thought I should bring you another fun and easy project for cat lovers. So today I'm going to show different ways to make a cat cardboard scratcher at home.
15 Ways to Make a Cat Scratcher Out of Cardboard
Keep your cat happy and busy by making these large cat scratchers which are rectangular in shape. They would be saving your couch and carpet from unnecessary abuse. You need to cut long strips from the cardboard to make this design.

 

Your cat will love this unique cat scratcher cum dome house. Your kitty can stay holed up in this scratch friendly surface and come out whenever it wishes to. You can place them in your lounge or

 

This is one of the easiest tutorials to make your own cat scratcher in no time. You don't have to cut the cardboard strips of the same dimensions.

 

This circular flat vat bed is a simple DIY project perfect for cats who love to scratch on flat surfaces They will love to rest on a cardboard box.

 

This catnip sprinkled cardboard scratcher is just what you need to save your velvet furniture from your kitty's claws. You can also make the base oval in shape instead of round.

 

Make your own up-cycled cardboard cat scratcher using cardboard from pizza boxes or old shipped boxes. It's easy to make and does not take much time.

 

This sturdy, cardboard scratcher in shape of a cat head will let you use your creativity. It will help your cat cope up with all that constant scratching without having to deal with damaged couches all the time.

 

This coiled cardboard seat is of adequate height for your kitty to scratch all she wants without bending too low. A simple DIY for kitty moms who have their hands full.

 

If you have a big kitty who likes to sprawl over the scratching surface, this large cardboard scratcher offers the best combination of comfort and texture. This is a double-sided cat scratcher, you can turn it around when the top is worn out.

 

All you need is a stack of corrugated cardboard boxes, like the kind online deliveries come in. Any size, any shape will suffice to make the scratching pad for your cat.

Cats can use this as a scratching post, a bed, and a perch. Flip it over when the cardboard on top wears out, for a whole new scratching pad. To keep your cat busy you can sprinkle the top with dried catnip.

 

This is a great tutorial to curate the utilities of a cat tree, a toy, and a scratching board in one design. This DIY cardboard tower offers enough playtime to bored kitties whose masters are away for long hours. Follow the video tutorial for step-by-step instructions.

 

DIY Triangle Cardboard Cat Scratcher

This DIY cat scratch post is made within $2.00! This is super easy to make. The triangle shape is different to look and all it needs it a piece of cardboard, 2 mats from the dollar store, and a glue gun.

 
Leave a comment