17 DIY Cardboard Fireplace Tutorials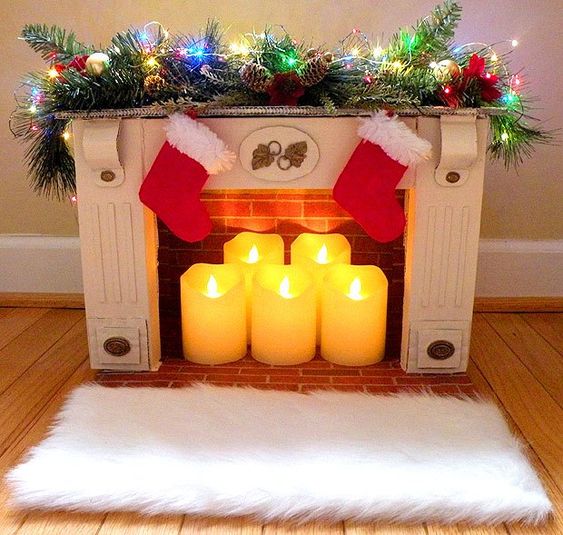 If you are deprived of the comfort of having a warm fireplace at your home, fulfill your desire by creating a fake one using recycled cardboard, to enhance the decor of your house especially when the festive season is around the corner. Sharing a collection of great DIY's and tutorials to help you out with step-by-step instructions.
A faux fireplace can be used just at Christmas time or all year round to add a fun architectural detail to the home. Place LED candles or a basket of wood in the open center part of the fireplace to complete the effect during the chilling winters. Hang the stockings and make it look so real even Santa gets confused!
How to Make DIY Cardboard Fireplace with Instructions
If you are a creative junkie and don't have a real fireplace this Christmas to lighten your house, make this beautiful craft and make a warm elegant corner for your room.

Add a warm and cozy charm your room and decorate it with garland, lights and filled with flameless candles. It is made from all recycled materials and it is very easy to create. You can add your own holiday decorations to make it your own style.

This Halloween fireplace cover will add a great charm to your decor. Paint some bats and hands and create a spooky effect.

A lovely fireplace that looks real. Add some warmth to your home decor with this handmade fireplace. Decorate it with stockings and Christmas ornaments.

Your kids will enjoy to add Santa coming down the chimney along with a warm fire, all made from paper and cardboard.

Add some homey holiday feeling with cardboard boxes and light in one corner this winter and create a faux fireplace. Making some cute designs with your colorful sharpies will give it a unique artistic touch for the festive season.

With the help of a tablet screen, the fake fire effect has been created. This will surely amaze your friends in wonder.

Your kids would be elated on seeing this awesome fireplace as it would serve as an ideal place for them to hang their stockings and eagerly wait for the special gifts brought for them by Mr.Santa.

Why buy a fireplace when you can build your own with a custom vintage effect. Just add a big triangle cut out to attach a chimney to your fireplace, just like the one shown in the picture below.

The old vintage brick style fireplace is always a treat to your eyes. Follow the simple instructions to create a decorated fireplace yourself.

Add props, trees, stockings and Christmas garlands to embellish it further for the cute festive look.

Place your faux fireplace against the wall or in the corner to create a Christmas look anywhere. Stockings, lights, small bulbs, and garlands can be hung with simple thumbtacks. These design cannot hold a lot of weight, however, so use caution when filling stockings and adding decorations to the mantel.
Leave a comment