37 DIY Crochet Doily Patterns | How to Crochet Doilies Tutorials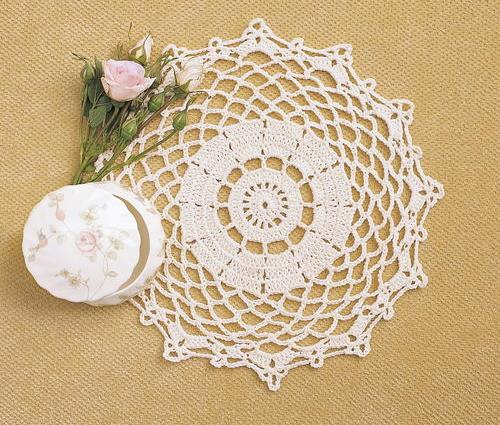 A doily (also doiley, doilie, doyly, doyley) is an ornamental placemat, typically made of yarn/thread and used as tabletops as mats! Crocheting doilies in various shapes, size and colors is a great crochet project and is ideal for lighting up your interiors, providing a splash of colors or pastel shades to the aesthetics. Find a collection of free crochet doily patterns to decorate your home with beautiful lace doily designs.
>> Learn How to Crochet Beautiful Tablecloth Patterns <<
>> Learn How to Crochet Pretty Coaster Patterns <<
Compilation of  Free How to Crochet a Doily with Step-by-Step Instructions for Beginners
This unique tan-and-cream doily has just the right combination of airiness, color, and texture. It makes a perfect accent for either the bedroom, dining room or living room.

Time to crochet some fancy doilies for your tabletops. The butterfly motifs add a great creative element to the design. Using 2-3 colors will make it look amazing.

White doilies are one of the most elegant pieces to adorn your tables with! It gives a lacy look to the round design!

Crocheting a doily with the pretty roses and leaves is sure a lot of intricate work, but the final product is a vintage feel beautiful doily to decorate your tabletops with!

A great crochet pattern for doilies as it has the classic round design o but it uses techniques from filet crochet to create beautiful heart patterns that makes it a great centerpiece for special occasions!

Make this colorful doily on your tables and sport a modern-chic crochet craft! An easy to make handmade crochet project for beginners!

This cute pink doily is crocheted using picot stitch pattern and is easy to make with step-by-step directions given in the tutorial.

Follow this video tutorial and make this wonderful heart shaped doilies ideal to decorate tables for weddings and other occasions!

For all crochet lovers, this hearts weaved in the middle of the circle is an ideal gift for loved ones to be gifted on Valentine's or their birthdays!

Make this beautiful dreamcatcher design for your doilies using cotton crochet yarn and display as a centerpiece or as a wall art.

Make a set of these amazing ombre doily coasters and adorn your dining table with these! They are useful gifting items as well.

Once you have crocheted your doily patterns you can follow this tutorial to turn them into wonderful doily bowls or small baskets!
Leave a comment