65+ DIY Tie Dye Shirts Patterns with Instructions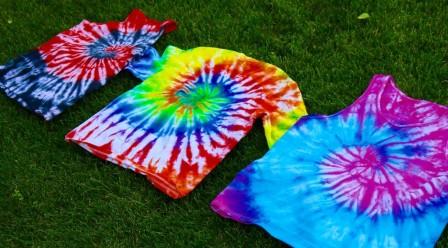 Tie-Dye is one of the most popular and fun ways to re-create a plain t-shirt. When you tie-dye fabrics, you become your own designer by making an original piece of art. Let's jazz up a plain t-shirt and create super cool patterns. In this post browse through the different techniques and process of making tie-dye shirts pattern with tutorials to guide you!
While there are no fixed rules for tye dying, you can follow these tips and tricks to make amazing designs. The folding, scrunching with rubber bands is a very important step for creating fine patterns. The tighter the rubber bands the better the results will be because the folds will resist the color from reaching those places. If you wish to create smaller patterns, keep the folds narrow and for larger designs keep wider folds on the fabric.
Collection of Cool Tie Dye Shirts Pattern and Tutorials
Become a walking piece of art with this homemade summer project. A cool experiment with colors can turn your old tops, shirts, and tees in new stylish outfits.

Create your own funky tie-dye t-shirts for the summers. Its a fun and easy to make summer project. You can make interesting patterns using different colors!

 

Camo shirt is one of the top preferences for men. A peace symbol will look great for casual wear!

 

Shibori is the traditional tie-dying technique of the Japanese. The indigo blue and white is an all-time favorite. Though there are various patterns you can try with tye-dying, but this age-old technique gives a unique look which is evergreen.

 

Try making stylish diagonal striped tie-dye pattern that sports some eye-catching results! A fun summer project for everyone.

 

Go designer this summer with designing your old tee with cool tie-dye patterns. Re-purpose your old tops and use the traditional tie-dye techniques for an amazing new design.

 

There are many ways to make spirals on t-shirts with the tie dye method. This tutorial shows the step-by-step techniques to make this super cool design. The various colors used make it look vibrant and is the best wear for summers.

 

Make a set of adorable cute American Flag designs on your shirts and dresses and sport a colorful look.

 

Learn different folding techniques to tie-n-dye this star pattern on your white based shirts!

 

With summers approaching get inspired to make this amazing reverse tie-dye technique using bleach on a black shirt.

 

Amanda has been tie dying for years and has learned all the best ways to create vibrant, beautiful shirts and shows you different ways to do the same!

 

This fall make this super cool tie-dyed shirt with a skull print for the upcoming Halloween!

 

Dress to impress with this urban chic summer outfit which is fringed and fabulous!

 

You can die cotton fabric and shirts with food coloring as well. While the results won't be as bright and vibrant as a clothing dye, but the project is still fun and a great introduction to tie dye patterns.

 

The design is a little complicated and this tutorial is apt for advanced dyers which explains the process on how to tie dye a Grateful Dead Stealie on a tee.

 

Sharpie tie dye projects are very amazing and quick to create tye die effects on the cotton fabric.

 

Turn your ordinary white tees into wonderful mickey mouse designer shirts! A great fun project to make for your full friend's group and create outstanding eye-catching outfits.

 

The spiral or the pinwheel is the most famous designs used for tie-dying shirts.

 

In this Youtube video tutorial the how to tie-dye process to make a mandala or star/ lotus blossom pattern is explained with directions!

 

Splash some colors to your shirts and go trendy this season. You can easily turn your old or worn out shirt a new look with this handcrafted white pattern.

 

Make these fashionable sleeveless Captain America's printed shirt to enjoy the outings to beaches this summers. Kids and adults whose favorite superhero is Captain America will love this for sure!

 

Make the perfect "V" pattern on your shirt and make fancy designs yourself this summer.

 

Add a splash of colors to your worn white t-shirt and give it a new look with this simple technique. In the tutorial, they tried some interesting ideas with salt to give it a creative look. Pair this casual top with denim and skirt to go cool this summer!

 

A blend of pastel shades with deep colors on a sleeveless shirt will look amazing on a summer afternoon. The folding and bundling of the fabric is quite an integral part of the project as it makes the patterns more precise.

 

Tie Dye Folding Techniques with Pictures

 

Learn how to tie the fan fold to dye your shirts to give them a bright makeover!

 

From toddlers' onesie to plus size and oversized ones, time to tie and dye all sizes and make amazing self-designed-shirts for the whole family with the heart-shaped effect. It looks adorable when everyone is wearing customized theme outfits.

 

This method of tie-dyeing enables you to use various dye colors and apply them precisely where you want them to be.

 

People often have a question, can you tie-dye colored shirts? Or can you tie-n-dye a grey shirt? Then the answer is Yes. All you need to do is replace the color with bleach. The bleach doesn't immediately turn the fabric white.  The longer you leave it on, the lighter the sections become. So you need to tie and fold the shirt meticulously to make sure the bleach doesn't bleed beyond the places you want it.

 

The snowman design is always a popular one amongst kids and adults. Make a unique handmade tshirt pattern this holiday season for your children.

 

This cool print gives you ample scope to experiment with different shades and hues. You can add colors of your choice matching or in contrast with the base color of the tee.

 

The heart design is one of the most popular for tie-dye shirt patterns. Go patriotic with the blue, white and red color combination!

 

A new trend and way to tie-dye fabrics is by using ice. Experiment with new techniques and turn simple tees in fashionable ones!

 

Tie Dye a Scrunch DesignThis abstract design is quite a unique one using crinkled folding patterns. The design has light shades of yellow and green in contrast to the bright red colors used.

 
Leave a comment