15 DIY Duct Tape Phone Case | Interesting How To's & Tutorials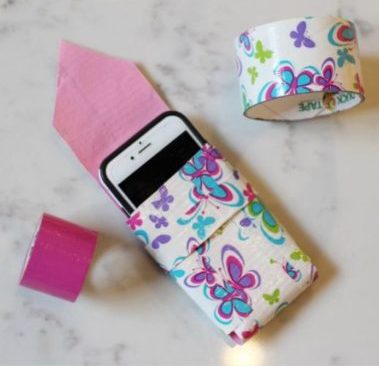 Duct tape crafts and projects are always in demand owing to its easy availability and inexpensive cost. You can experiment with endless duct tape projects from wallets to phone cases. You can learn some amazing and interesting ways to make unique DIY Duct Tape Phone Case and decorate it with buttons, accessories or embellishments! We list some creative DIY Duct Tape Phone Case tutorial with step-by-step instructions to guide you make your project easily.
Compilation of How to Make Duct Tape Phone Case Tutorials
Learn how to make a duct tape phone case with step by step instructions! An affordable and easy way to cover your phones with homemade crafty solutions.

Saving money on phone cases should be a fun affair for crafters.

This is a very simple tutorial which uses bubble wrap and duct tape to make a creative phone case. You can decorate the phone back as per your choice.

A very pretty and cute phone case idea with duct tape. This duct tape phone case tutorial explains it well and is easy to follow.

If you are wondering how to make a duct tape phone case for your iPhone then this tutorial is to your rescue. This cover has a transparent front cover, so you can use your iPhone easily without removing the phone case!

Time to design a new iPhone case for yourself. You can use innumerable interesting ideas to explore with duct tape. In this tutorial along with duct tape, dark chocolate covers have been used to make the phone cover

Crafting with duct tapes is always fun for kids. This craft activity is a quick one and will make some colorful and vibrant cell phone covers.

Create beautiful phone cases using duct tape and some fabric. The fabric lining will give the phone case some stiffness and will be easy to use. You can decorate the phone case with embellishments of your choice!

Make this easy phone case with duct tape for your android phones.

These trendy and vibrant phone case wallets are ideal for your summer craft sessions. With some basic simple supplies, you can create these quickly.

Adding a carabiner or hook to the phone case will make it easy to use and carry.

This video tutorial shows you how to make an iPhone 5 case with complete step-by-step instructions to guide you!
This holiday season time to make these cute and amazing designs for your phone cases and flaunt new cases every day. You can make this for guys as well with less girly prints on the duct tape. An affordable and quick way out for cell phone cases!
Leave a comment