Knitting And Crochet: Which Is Better?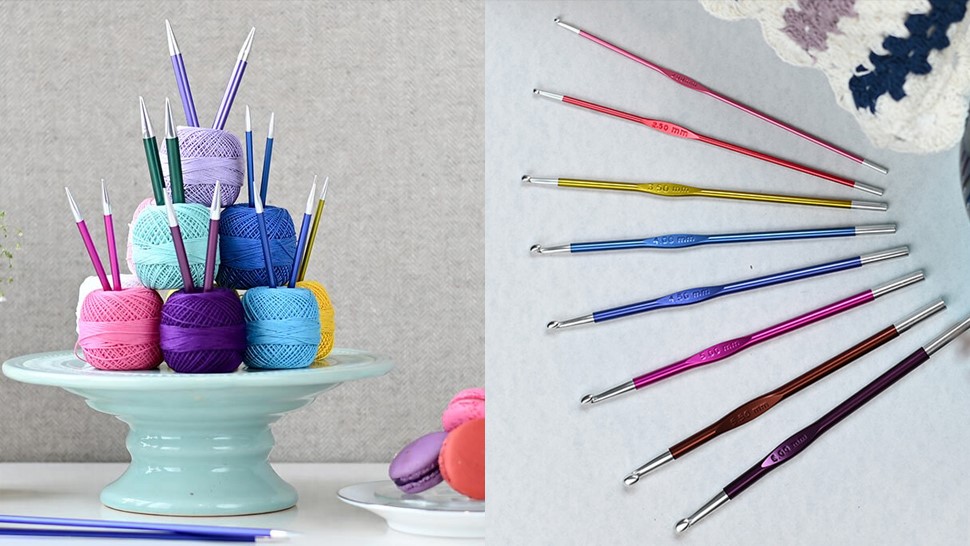 Many knitters and crocheters have heated discussions on which craft is better. Today we would like to shine some light on the differences between knitting and crocheting and let you know what we think about this difficult question.  We'll talk about the main differences, the advantages of each and then let you decide which you'd prefer.
Knitting vs. Crocheting – Let's talk about the differences
First of all, let's have a look at the differences between these two amazing crafts.
For crocheting you only use one crochet hook at the time and you are creating a fabric by threading the yarn through one life stitch. This life stitch remains on your hook and is the only stitch that you have to take care of whilst crocheting.
Crocheting is therefore easier to learn in regards of coordination, but it can be harder to learn in regards to the differences in stitches as there are so many different types that you can make. If you make a mistake when crocheting you will easily be able to undo a stitch without losing all of your previous work.
When knitting, you will be working with two needles at the same time. This requires some hand coordination and for many beginners, this seems to be the more difficult craft initially.
When knitting you are making a fabric by threading the yarn through the loops that you have on your left needle and transferring them to the right needle. These life stitches need to stay on the needles, and that's what makes knitting initially a bit harder to learn than crocheting.
Losing a stitch can sometimes end in a catastrophe, especially when you are just starting out with knitting. It is always great if you have an experienced knitter to help as they will be able to fix a dropped stitch in no time.
The Advantages of Crocheting
Easy to change shaping
Easy to learn
Only one needle needed
Huge range of patterns (especially for small projects)
It is quicker
When crocheting you will be able to change the shaping very easily and therefore you are very flexible in regards to personal preference in sizing and fit. You will be able to make certain parts of your crocheted sweater bigger or smaller than described in the pattern without having to learn a lot of new techniques.
Crocheting is very great for making toys as there are an incredible amount of crochet patterns out there. But you aren't limited to toys. You will be able to make blankets, garments and practically anything else that you can think of with crochet.
For crocheting you only need one hook at the time and you don't have to think about different kind of hooks (unless you decide to go more advanced and you want to try out different kind of crochet styles, but we leave that for another day).
We recommend to start your crocheting career with a good beginner set to avoid any frustration.
A really great set is the Waves set by knitterspride. It includes 9 different crochet hook sizes that will cover you for most yarn weights. The metal hook tips make them super easy to work with whilst the soft grips will be easy on your hands (especially if you are just starting to crochet. This is because most beginners tend to grip the needle too tight).
The Advantages of Knitting
You use less yarn
Make small, medium or large projects
A good way to learn many different techniques
Variety of styles (circular or flat knitting)
Literally thousands of patterns
If you can think it, you can knit it!
Knitting can sometimes be slightly slower, but that obviously varies with experience. One thing is for sure.
You will be spending less money knitting as it takes less yarn to produce the same size of fabric compared to crocheting.
Similar to crocheting you will be able to make anything you can think of with knitting. You might find that making small toys is a bit more fiddley with knitting as you will have to use a lot of different techniques to achieve the same shaping as with crocheting.
For knitting you will need a good pair of knitting needles and you might find that it is a bit harder to choose the style of needle for your first project.
You will either need a pair of straight needles or a circular needle in the required size, depending whether you will be knitting flat or in the round.
If you want to be very flexible and able to tackle any kind of project, we would recommend the Symfonie Deluxe Interchangeable Circular Needle set by knitterspride.
These wooden needles are great for beginners as the yarn slides less, meaning no dropped stitches! With the Symfonie Deluxe set you will receive 8 interchangeable pairs of needles in the most commonly used sizes.
Conclusion
Let's be honest, we wouldn't be able to bring this heated conversation to an end. But we are convinced that both knitting and crocheting have their place.
You might still ask yourself, which is better? Well, the only answer to it is to try it out and decide for yourself. And we promise, both are amazing hobbies to become hooked on!