20 DIY Log Candle Holders | How To's & Ideas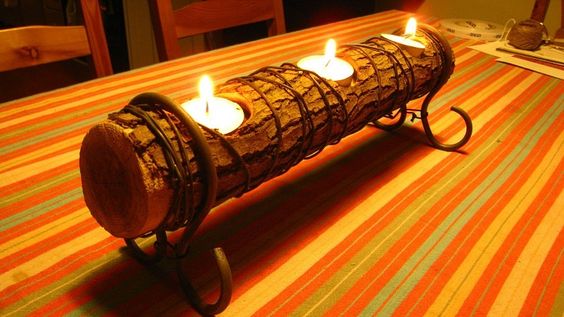 Reclaimed wood logs make stunning candle holders giving the decor a rustic and natural touch. Add some pretty tealight candles and add an aesthetic touch to your interiors. Enhance the ambiance of your house and make the best log candle holders at no extra cost. Upcycling wooden logs into vertical or horizontal candle holders are a great idea for this holiday season!
Collection of How to Make Homemade Log Candle Holder | DIY Ideas
Here's a quick DIY project that requires no welding or special woodworking skills. This elegant centerpiece candle can be made from any piece of chopped wood. You can add scented candles for a romantic ambiance

These pillar log candle holders are made from upcycled pine tree branch.  You can make them of different sizes and use it as a beautiful centerpiece in Autumn or Christmas. The tea light candles when lit up change the ambiance of the house!

This winter holiday make this easy peasy DIY project and lighten up your room. This project is a quick and inexpensive one, great for beginners! You can put this on your side tables and enhance your room decor at no cost!

The candle holder decked with beautiful candlesticks illuminates the room aesthetically. Add Pinecones, grapes, holly, and candles to give a personal touch to it if you want to gift it to someone.

Turn wooden log slices into unique table centerpieces! Follow the simple instructions and place scented tealights for an amazing decor!

You May Also Like: "How to Make Twig Candle Holders"

This tutorial for rustic log candlesticks costs virtually nothing to make and takes about 1 hour for nine pretty candlesticks. You can pick wood piles from trees that were cut down and chose the best looking ones to decorate your dining table this festive season!

Collect some tree stumps and recycle them to tree log candle holders for this Fall. You can paint them white for the elegant look in winters.

You May Also Like ~ "How to Make Seashell Candle Holders"

Get ready for Memorial Day and 4th of July with these adorable American Flag Log Candles. You can paint another design if you want, but I found this very cool.

These DIY rustic wood candle holders are perfect for your Christmas decor. Get creative and add some greens and red candles to give it an Xmas touch. A set of these handmade candles make great gifts to friends and family!

You May also Like ~ "How to Make Wine Candles"

Make this craft using tree stumps or small logs and embellish them with flowers, ribbons, and ferns. You can use them as beautiful wedding decorations and centerpieces! Also, they make great gifts! Please translate the tutorial if you are a thumbs up for this idea!

You May also Like ~ "DIY Mason Jar Candle Holders"

Enjoy a warm and cozy dinner on your dining table with these tea light candles on the driftwood. It gives a rustic touch to the decor!

Martha Stewart and craftsman Tom Tambella make wood candle holders with tea light votive candles and small tree logs. Catch the tutorial with easy to follow instructions and make your own log candles!

The ambiance of the room gets misty and warm when the pillar log candles are lit up.
Leave a comment