20+Stunning DIY Seashell Candles & Candle Holders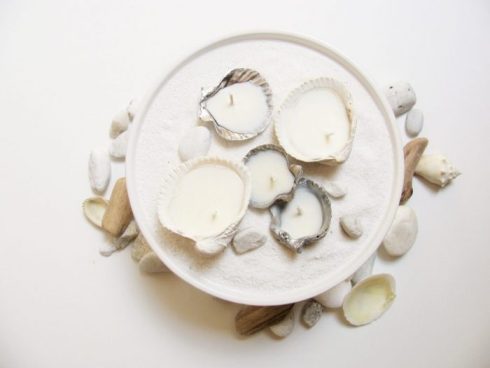 I'm sure we all have collected seashells from our beach trips and cherishes them. Seashells of different shapes and sizes. We had shown how to make cool bracelets with seashells in our posts. But did you know you can turn them into beautiful seashell candles or can be made into adorned candle holders?
These candles are perfect for dressing up a table arrangement or even accessorizing a bathroom.  When they've burnt out just remove the old wick and refill them again. You can use scallop shells, oyster ones or conch shells of pearl or round shapes. Scroll down for some interesting and unique seashell candles designs with step-by-step instructions in the tutorial.
Collection of DIY Seashell Candle and Candle Holder Tutorials & Videos
A great summer craft idea for all candle lovers. You can use bivalve shells as used in this tutorial to make these candles using beeswax. A set of candles can be made of different shapes and sizes. They make great centerpieces and will be great to gift as favors too.

Made from natural seashells, the aesthetic flair of the handmade candles gives the room a rustic touch and an ambiance for an impromptu beach party. This DIY tutorial is from Sheknows.Com and is great to see how to make your own decorative candles from seashells.

If you live near the beach then I'm sure you will love this craft idea. This tutorial uses white seashells and if you don't have them you can use spray paint as well. The combination of sand and shells goes hand in hand.

When lit these candles look beautiful and adds a modish touch of elegance to your room. Easy to make and affordable craft idea. You can use seashell candles as wedding favors or for a beach theme party decoration.

Adding a little essential oil to the tealight candles added to the seashells will add a wonderful ambiance to your room. You can get creative and make it more decorative. An ideal handmade gift for your mother and loved ones.

If you love to collect big shells then create this centerpiece for a Summer dinner outdoor. The candles can be placed on a tray or a colored dish like this one, together with hydrangea petals and smooth pebbles.

The small shells are embedded and scattered around in the candle to create an instant vignette. The yellow candle tutorial is from runningwithsisters.com

Have you a beach-theme wedding in your mind? Make your own gel candles with shells to make it amazing without going for any extravagant options.

Use your beach treasures, shells and sands to create this visually stunning candle holder and place your shell candles on them. A beautiful way to decorate your house. You can make pairs of such candle holders and use them as unique party favors too!

Here's another fascinating craft idea for showcasing some beach beauty in your home. First, wash and clean the oyster shells properly and then glue all the shells to form an arc shape and then place the candle in the center.

You can use these homemade shell candles to decorate the base of your candle holders and give your plain, boring pillar candles a jeweled beach look.

Learn to turn your seashells into pretty candles and make your own shell centerpieces.

Learn how to make seashell candles, using seashells, beach sand, starfish and a glue gun. These candles are affordable, quick and easy to make! Great crafting idea for a beach wedding, beach party or as a gift or party favor, to bring the coastal touch to your home or office!

The shiny shells treasured from your vacations can be turned in wonderful candles to decorate your tables.

Don't you feel the aesthetic appeal of the candles increases manifold when made using conch shells? Try making on today!

You can us glitters inside the melted wax or on the shell to make it a decorative floating candle.

It's awesome to see them meltdown and expose seashells hidden inside of them.

You may have a bulk of shells with you. You can use them to decorate the candle ring and see how shells and candles decorate your room.

This interesting tutorial is from purpluhuesandme.com, visit site for step-by-step instructions

You can also use glass mason jars to replace these glass bowls. All you need to do is fill the glass with sand and your beach treasures and then place pillar candles or flameless tea lights or led ones inside them.
Leave a comment