20+ DIY Ways to Make PVC Bird Feeder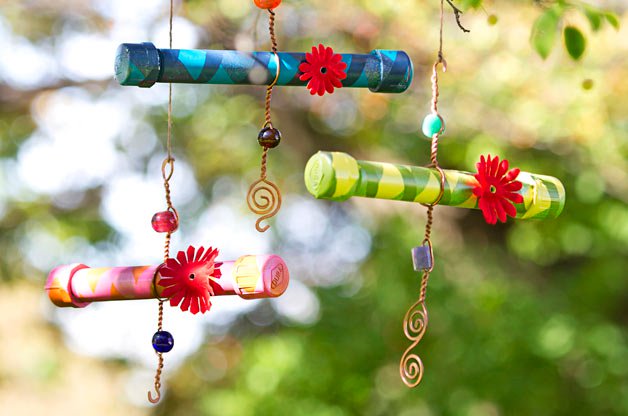 We have explored in earlier posts how to make bird feeders from old wine bottles, milk jugs, pine cones and more. Now let's see how to build interesting designs for bird feeders from PVC pipes.
DIYs on How to Make Bird Feeder Out of PVC Pipe
The linked tutorial has made two similar bird feeders with different dimensions. They are shaped like a mailbox for a newspaper (horizontal pipe) and one which looks like a common birdhouse (vertical pipe with a small roof). Paint it with colors of your choice to add a spring touch to your garden.

Now just find a tree branch to hang it on with some string and you're set to feed some birds. You will need plastic dishes the support the PVC pipe from the top and bottom. The bottom one holds the birds feed.

You can make a small-sized feeder if you want. Selecting the right location for a feeder is critical to preventing unwanted animals (raccoons, squirrels, rodents) from accessing the food and damaging the feeder.

Add some color and creative element in your garden/backyard with these cute little handmade birdfeeders for hummingbirds. Splash your favorite colors on narrow PVC pipes and hang these decorative feeders on trees. Birds will surely be attracted soon to their new feed station.

Learn how to use old PVC pipes to make simple and easy to install bird feeders. The linked tutorial explains step-by-step instructions which help you to make one in no time.

Keeping the squirrels away from the feeder can bring the birds back to your yard. The slippery surface of the PVC pipe stops the squirrels getting a grip.

These non-traditional birdhouses are fun to build and display to feed birds with food in your backyard or lawn. If you don't have much space you can install the post in the corners of the trees.

A feasible way of eliminating food waste without any additional cost from an easy do-it-yourself project.

Turn basic into beautiful with this bird feeder idea for your winged buddies. This tutorial will show how to make a gravity feed bird feeder from some salvaged PVC pipe, cheap and forgotten frisbee, and a few PVC plumbing fixtures.
Leave a comment