31+ Unique Cute DIY Ankle Bracelets Ideas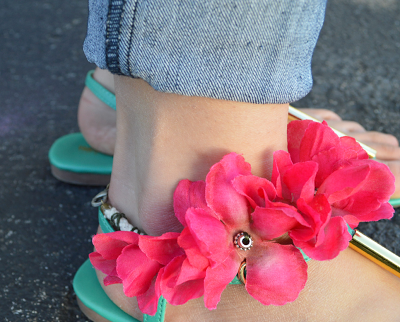 Before we used to have only gold or silver ankle bracelets but now we have such a huge variety of ankle bracelets, made of beads, various charms, pearls and are designed according to the latest trends. Ankle bracelets are also known as anklets. They look not only cool but also beautiful. So let us have a look at some of the type of DIY Ankle Bracelets tutorials and how to make them as flaunting an ankle bracelet is a trend of the season for women, men, and kids.
> Shamballa Bracelet Tutorials & Instructions <<
 >DIY Beaded Bracelet Patterns <<
How to Make Stylish Ankle Bracelet (Anklets) Designs with Step-by-Step Instructions
In these personalized bracelets, you can write anything you want, be it a particular word or someone's name, and attach it to a chain that would be of best fit. Once it's ready, wear the beautiful piece of fashion and seize the spotlight.
Leathers have always been used to give a rusty look. This leather cord bracelet will give you a rustic boho look along with a sleek appearance. You will be one with nature with this leather anklet. You can add any charm of your choice.
This bohemian ankle bracelet is the ultimate bohemian jewelry for your foot. This unique design is worn around your ankles, highlighting your beautiful feet. If you are going to the beach, this will suit you perfectly. Wear it with your beachwear to get an elegant gypsy look.
Channel your inner Boho chic with this vintage-style anklet. This anklet will transform your look to a gypsy-inspired ensemble. You can replace the beads with charms of your choice. Wear it to a beach or casual summer hangouts.
Anklets are not only worn by women but by men too. A simple anklet can make you look stylish and give a bold statement at the same. Be it leather or a simple chain, men do wear anklets. the one shown in the tutorial is a simple chain.
Upgrade any look with this subtle yet unique anklet. Instead of the sterling silver beads used, you can use colorful beads too. Made of hemp twine, it features an elegant appeal that's perfect for Boho, grunge or goth outfits. 
This beaded anklet is a simple and elegant accessory that's designed for the modern woman. It's a subtle yet stylish piece that works with almost any outfit. It's made up of pink beads.
Add subtle glamor to your everyday look with a delicate accessory. These string bracelets are delicate yet fashionable. You can either use a string of only one color or an assortment of colors.
Complete your Indian traditional look with this elegant vintage anklet. The fashion jewelry can also turn a simple look to an interesting ensemble. Relive the romance of traditional fashion combined with ghungroo to get a perfect look.
Take your style from blah to bling with this anklet and give your style statement a jump start in a few seconds. Wondering how to make these Charm Ankle Bracelets? Follow this video tutorial and make a chic piece for yourself.
Bring to each moment the needed style through this anklet which caters to your fashion needs. Tribal ankle bracelets are highly in vogue now, a common feature in them being coins, stars, the moon, etc.
Give your outfit a dose of bohemian style with these swinger ankle bracelets. In the tutorial Bead, Landing Work is used but you can use beads of your choice.
Anklets are always fun to make and even more, fun is there in flaunting them in summers. So go ahead and follow this tutorial to make this beautiful swinger ankle bracelet.
Earn an all-access pass with this ankle bracelet. It will also bring out your adventure loving personality. 
Decked with fringed fabrics all over this is a must-have in your collection. So go on and make it with this easy tutorial. 
You will definitely fall in love with this wish bracelet made out of the thread. Instead of a light color, you can use black thread to make it even more prominent.
If you don't like the gold color then use silver chains instead. The owl charm will elevate the visual appeal of this anklet. 
Cool and casual this starfish ankle bracelet will definitely grab attention. You can use colorful starfish charms instead of gold ones. Video tutorial here.
Let everyone take a peep at your vivaciousness by wearing this fashionable ankle bracelet made especially for the most fashion-conscious lady.
Painting a beautiful picture of fresh, vibrant hues and ethnicity, this macramé ankle bracelet maintains a perfect balance between sartorial elegance and ethnic grace.
Crocheting may seem complicated to you but with such a vivid tutorial it is much easier. So don't waste time and start crocheting this ankle bracelet with detailed directions.
The best thing about hemp ankle bracelets is you don't have to think about the risk of going into the water wearing them. They won't be spoiled by water. Leave them for some time and they will dry.
Don't you want to flaunt your legs by wearing a super stylish ankle bracelet on the beach this summer? So go on and make one for yourself by simply following this tutorial.
Braided ankle bracelets have been popular from the good old days and are still in trend. So, don't you think you should own too?
The black suede cord gives it an extremely classy appearance. It is indeed a sophisticated piece of jewelry. This can be worn both as a bracelet and an ankle bracelet.
You can use the cord of your choice. This ankle bracelet is a wardrobe essential for all women out there.
Summery and stylish, this pearl ankle bracelet is a perfect match for this summer. It gives a good traditional look too. 
Instead of the love charm, you can either use alphabet charms or bend the wire in the form of the particular word that you want.
This beautiful ankle bracelet with feathers and lace give a unique and perfect gypsy look. This will be a distinct addition to your accessory collection.
Shell ankle bracelets will give you the perfect beach look. You will just need some shells and beads of your choice to make this.
The coins in this ankle bracelet bring about a vintage look. Lease a new life to your trendy outfit with a little bit of vintage touch and flower designs like roses!
Want to be beach ready? So go on and make this simple beach ankle bracelet to flaunt in your next holidays.
Rope ankle bracelets give an out of the box look when paired with a short dress preferably of a dark color. It is easy to make. You only need a rope and make a knot as per the tutorial to sport a unique look on your legs.
This thick ankle bracelet will give you a floral and colorful appearance. It is best worn with summer flip-flops.
So, here is a list of 36+ types of ankle bracelets and all of them are equally captivating and beautiful. So go on and follow the tutorials to make these cool ankle bracelets.
Leave a comment