20 Free Crochet Shorts Patterns (Easy Beginners Level)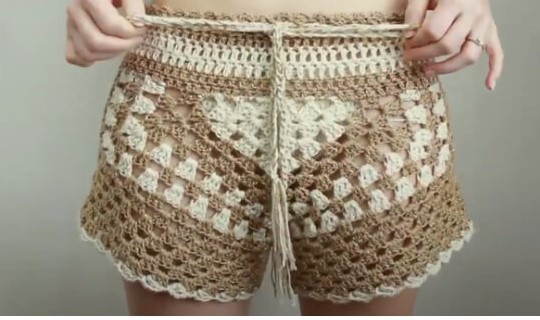 Crochet shorts are the most in thing this summer. We have rounded up the best collection of free crochet shorts pattern, tutorials, with step-by-step instructions to guide you. These tutorials are for women, girls, kids, men. Crochet short pants are the perfect outfit to pair with tops and scarf on beach on hot summer days.
How To Make Crochet Shorts: DIY Patterns and Tutorials
Crochet shorts are popping up all over this summer season and is a popular outfit amongst girls, kids, and women. These high-waisted crochet shorts are easy to make following some simple steps in the linked tutorial.

Consider making your own DIY crochet shorts instead of buying them from the store.

It's usually believed that crochet shorts are only for the beach, but you can wear them at the beginning of autumn or spring also.

 

This design uses pineapple crochet lace stitch (not for beginners but intermediate level). This amazing handmade shorts can be paired with a poncho or tank top on a beach on a summer day.

 

These granny square crochet shorts are super comfortable and cute for the summers. They are easy to make even for beginners. Feel free to choose your color of yarn for the combination of your choice. Granny square stitches never go out of style! The linked tutorial is from sfmgs.co.uk which gives you step-by-step instructions on how to crochet this pattern.

 

This design is a simple crochet stitch with lace trimming along the hem.

 

These days we see so many celebs are donning crochet items. So why buy them, if you can make your own crochet shorts!

 

Make Crochet Chevron Shorts Pattern

 

These beautiful Summer Breeze Shorts were designed by Lorene Haythorn Eppolite. This is the perfect beach cover-ups for a breezy day!

 

You can wear them as is, or you could make a pair just for over your bikini at the beach. The waist band added is adjustable and the linked tutorial has measurements for various sizes from S-XL.

 

This is a super simple and quick crochet patter for Beach Shorts that you can wear over your swimsuit.

 

Crochet Swim Shorts Pattern

This linked tutorial is from Ravelry by Jess. H. Learn how to make these bright colored shorts with only simple stitches and is mostly done in grit stitch (alternating single crochet and chain stitches.)

 

A pair of cool bloomers for your baby, which combines the classical granny square and a more modern rib. This pattern is the ultimate stash buster, since it is only consumes 2 skeins of cotton yarn, and you easily can make it different colors.

 

Check out the pattern for a very casual and unique crocheted shorts for men. It's an easy to follow pattern with pdf instructions and diagram.

Granny afghan squares crocheted of knitting worsted in a variety of colors and bordered with white are sewn together for a pair of shortalls. The Waistline adjusts with a drawstring chain.

 
Leave a comment