40+ Creative DIY Pine Cone Wreath Ideas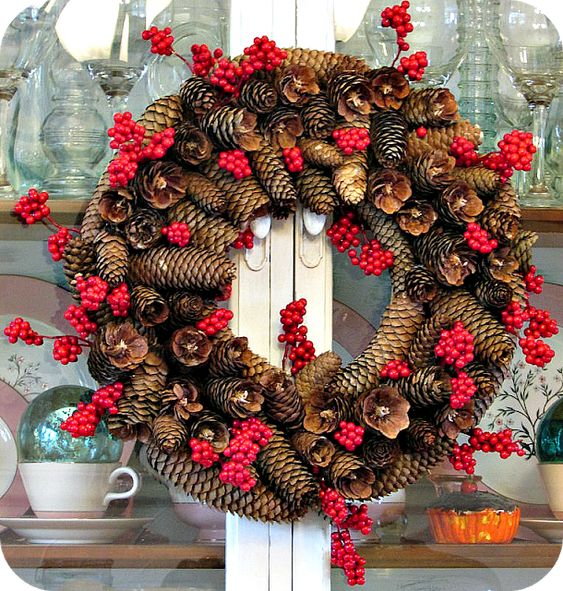 Making pinecone wreath is a fun and creative way to welcome guests and add a little curb appeal during holidays. Gathering natural objects from the outdoors like pinecones, acorns, some greens and bringing them together in a creative manner keeps you connected to nature. Create a fabulous wreath using the freshly cut pine cones, this might be one of your preferred craft idea for this holiday season. We have compiled some amazing tutorials which may make your wreath making project an easy one! It's simpler than you think and getting the pinecones ready makes your house smell amazing!
How to Make Decorative Pinecone Wreath~ Tutorials & Instructions
These wreaths are spray painted and glittered, with bead decorations and a bow attached. You can choose to keep the original color of pinecones to have that rustic country look on your entrance. If you are wondering how to make a pinecone wreath on a wire frame, then this is the perfect tutorial for you!

 

This winter white wreath is the perfect decoration to greet guests with a warm, holiday welcome.

 

Turn these pinecones into an abundance of flowers and colors for a festive fall touch that will last you through Thanksgiving or Christmas!

 

 For Wine Cork Wreath Tutorials ~ Read Here

A great one for beginners, bring some holiday cheer to your front door with this woodland, pinecone wreath adorned with artificial berries. It looks lovely displayed all winter long!

 

An amazing combination of greens, mini pinecones, glitter, ribbons and more. Adorn your front doors with this holly combination sets off the mood for the festive season.

 

Make a pretty wreath for the holidays (or any time of year!) with pinecones, spray paint, and a few other basic craft supplies.

 

 For DIY Coffee Filter Wreath ~ Read More

You can also opt for a three-color dip (red, white and green or blue), for Memorial Day or Christmas likewise.

 

Upcycle pinecones to make a warm and welcoming door decoration. Personalize it for some one special or in remembrance of a loved one!

 

With a burlap base and pumpkins, gourds, pine cones, and pheasant feathers, this rustic DIY wreath screams fall! It would look great either outside on the front door or indoors as part of your fall and Halloween decor.

 

Bleached pinecones are all the rage! While pinecones have always been a staple of autumn and winter décor,  bleaching them gives them a softer, brighter, more modern look than untreated pinecones.

 

Grab some ferns and pinecones from your backyard and turn them into a pretty wreath in for the spring. A lovely house decor with colors and hues.

 

Give your front door a warm and welcoming summery vibe with this cute and thrifty Pine Cone Pineapple Wreath!

 

To give it a natural look the grapevine is used instead of the styrofoam. A splash of bright colored bow makes it look more lively. You can get more creative and try adding elements for a new look.

 

A great Christmas craft with natural pinecone supplies and small colorful pom-poms. You can also use tassels, ribbons, bows to embellish it further. Hang it on your front door or wall and get amazing compliments.

 

This woodland wreath can be made using twigs and pine cones gathered up on a family nature walk. A fun and thrifty home decor project for holidays!

 

A perfect pattern for a snowy season decoration this winters. Use it to dress up your home from Christmas until Valentine's Day.
Leave a comment