15 DIYs to Make Styrofoam Pumpkins | Craft Ideas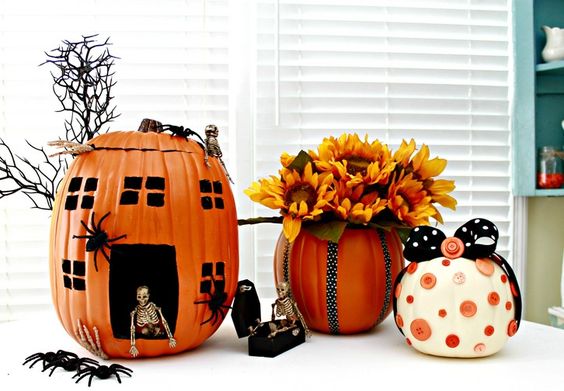 This autumn you can make your own pumpkins from styrofoam and decorate them in unique and interesting ways.
We have got you a host of amazing and informative tutorials, that would naturally inspire you to have a whole lot of ideas in your kitty to make decorative pumpkins for Halloween and Fall.
[Read: How to Make Paper Pumpkins]
Interesting Ways to Make DIY Styrofoam Pumpkins for this Halloween/Fall
You can use faux pumpkins available at-the dollar stores and cut them in half and make pretty embellishments for your door this Fall. Decorate the pumpkins with glitter, and add a bow to it. Follow the link for the complete tutorial and instructions.

Styrofoam pumpkin makeover project is a great idea to test your creative ideas. It makes a great table decor and adds to the Halloween/Fall ambiance.

[Also Read: How to Make Tulle Wreath for Halloween]

Add some sparkly delight to your Halloween decor this holiday season. These fake foam pumpkins are available in various sizes and shapes at-the dollar store. Follow the link-to learn how to paint and add glitters to this stunning pumpkin.

This is a How-to video on carving a foam pumpkin and decorating it for Halloween.

Nothing says Halloween like cool pumpkin decorations! This is a quick and cheap holiday DIY that's great for a party, or to simply get your family into the spirit.

I think these pumpkins would make create Halloween party favorites. If you leave off the face you could use them as Thanks giving table place holders or center pieces.


You can get bulk foam pumpkins and decorate them by painting and carving cool Peek-a-boo designs. In the linked tutorial follow the step-by-step instructions to make interesting designs.

The eerie scene created in the pumpkin is for sure to send a chill down your guests' spine.

Learn how to cross-stitch a carve-able foam pumpkin! An interesting way to decorate your room this Fall/Autumn. Would you try a non-traditional color palette or do you like to stick with the norm of orange or so? The good thing is that you could easily adjust this craft to suit your personal preferences.

These gorgeous pink pumpkins would be an excellent decoration idea for a baby shower. You can even keep some blue pumpkins along with the pink ones for baby girl and boy. Dip it in some glitters to add sparkles to the vintage decor. The tutorial is from Fox Hollow Cottage. Visit the link for full instructions to make one of your own.
I'd love to see what fun you create, tell me about it in the comments section below. Happy crafting!
Leave a comment